Entrepreneur Idea Guide
Starting a Hamburger & Hot Dog Stand
Opening a hamburger and hot dog stand is your ticket to owning a good, stable business but it's important to plan out the business in detail before you start. We provide tips and advice that instructs you on how to start your business.
Wondering how to start a hamburger and hot dog stand? We take you step-by-step from start to success.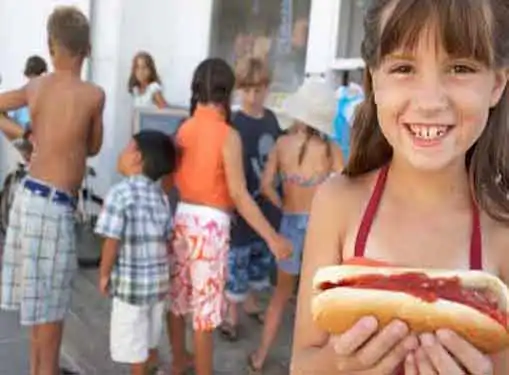 Essential Characteristics of Hamburger and Hot Dog Stand Startups
Few things are more American than hamburgers and hot dogs. Consumers can't seem to eat enough great burgers and hots -- and that makes a hamburger and hot dog stand a tasty startup for cash-strapped entrepreneurs eager to break into the food service industry.
One of the nice things about a hamburger and hot dog stand startup is that it can be launched in a variety of different business models. If you're fully committed to the idea, you can lease space and establish a year-round enterprise. On the other hand, if you're just testing the waters and need to keep your day job, you can create a mobile business model to serve hungry crowds on weekends or during seasonal peaks. Either route can be profitable -- it's just a matter of which business model is the best fit for your circumstances.
Things to Think About
Whether you plan on starting a permanent or mobile stand, the first hurdle you'll need to address is equipment. Restaurant and mobile food service providers experience fairly high turnover rates, so you should be able to get reliable fryers, griddles and other equipment on the secondary market. If your plan involves selling hotdogs and hamburgers from a food truck, you may be able to find a turnkey unit available in good working condition.
The next challenge is to secure supply chains for hamburgers, hot dogs, buns, paper products, condiments, etc. Although the cost savings can be tempting, avoid low-quality meats and food products. Every hamburger and hot dog you sell is a representation of your business. Your long-term growth depends on your ability to consistently provide distinctive and high quality products.
The final hurdle you'll need to overcome is food and health certifications. Contact your state health department to determine the requirements for hamburger and hot dog stands in your area. After you have met the requirements, schedule a health inspection and maintain food safety standards at all times.
Creating Business Plans for a Hamburger & Hot Dog Stand
Does your hamburger and hot dog stand have a business plan? If not, your company is lacking a critical business tool. If it's sound, your business plan will keep you new venture on course and help you avoid the pitfalls that plague other startup entrepreneurs.
To assist your efforts, you may want to consider enlisting the aid of a professional business plan writer.
The right business plan writer can give your hamburger and hot dog stand a competitive edge over other startups in your industry. However, outsourcing doesn't completely eliminate your responsibilities in the writing process.
Startup entrepreneurs are well advised to materially participate in the writing process, even after they have engaged a proven professional.
Evaluate the Competition
Before you open a hamburger and hot dog stand in your town, it's a good idea to determine what the competition looks like. Try our link below to find competitors in your area. Just enter your city, state and zip code to get a list of hamburger and hot dog stand in your community.
Before you open up shop, make sure you know what you will offer to your customers that provides a significant advantage over your competition's offering.
Learning More About the Industry
As part of your due diligence on opening a hamburger and hot dog stand, you really ought to learn from folks who are already in business. It's very unlikely that the local competition will talk to you. Why would they want to educate a future competitor?
Thankfully, an owner of a a hamburger and hot dog stand in another town may be more than happy to give you a few tips, provided that you won't be directly competing with them. In fact, they are often very willing to share startup advice with you. If you are persistent, you can find a business mentor who is willing to help you out.
The key question new becomes: how to find an owner of a hamburger and hot dog stand that lives outside of your area?
Here's how we would do it. Try the useful link below and key in a random city/state or zipcode.
Is It Easier to Buy an Existing Hamburger & Hot Dog Stand?
As an aspiring business owner, the decisions you make now will have huge implications later, including the decision to either start a business from scratch or buy an existing hamburger and hot dog stand.
In general, purchased hamburger and hot dog stand fare better than startups, at least during the initial few years. Existing companies have an established customer base, brand recognition and functional business models. More importantly, buying an existing hamburger and hot dog stand makes it easier for you to begin collecting a salary sooner rather than later.
Entrepreneurs who are committed to a highly unique value proposition may need to pursue a startup approach. However, in today's business-for-sale marketplace, there is an abundance of hamburger and hot dog stand worth considering.
Don't Forget About Franchising As an Option
There are myriad startup mistakes that can be mitigated by buying a franchise.
Before you consider starting a hamburger and hot dog stand, it's worthwhile to investigate whether buying a franchise could be the right move for you.
The link below gives you access to our franchise directory so you can see if there's a franchise opportunity for you. You might even find something that points you in a completely different direction.
Other Useful Articles for Startup Entrepreneurs
These additional resources regarding starting a business may be of interest to you.
Questions to Ask Before Starting a Business
Characteristics of Successful Entrepreneurs


Share this article
---
Additional Resources for Entrepreneurs