Entrepreneur Idea Guide
Starting a Hammock Retailer
These tips are ideal for entrepreneurial folks who hope to start a hammock retailer. Read this advice before you start!
Wondering how to start a hammock retailer? We take you step-by-step from start to success.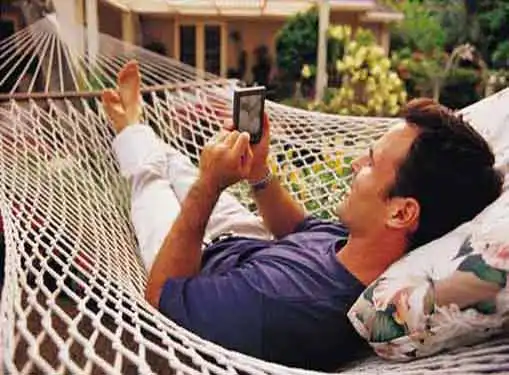 Hammocks: Is Specialization a Viable Small Business Strategy?
Hammocks. Swaying in the breeze on a lazy summer day, with a favorite libation in arms reach. What's not to love about those crazy contraptions? But when it comes to a small business concept, can hammock sales generate enough revenue to sustain your entrepreneurial goals over the long term?
The issue is one that entrepreneurs have struggled with for generations: Specialization. A specialized retail approach inherently limits the size of your customer base. In other words, if you specialize in hammocks, you will automatically exclude consumers who are looking for armchairs or other types of leisure furniture.
But hammocks are one of those rare products that are capable of succeeding as a standalone retail specialty. Retailers like HammockUniverseUSA.com have demonstrated that it's possible to be profitable selling just hammocks. The caveat is that you will need to go deep in the hammock market niche and create a unique value proposition that motivates hammock buyers to choose your business over Amazon or big box retailers.
Breaking Into the Hammock Retail Niche
Compared to the hordes of retailers offering hammocks as part of a larger retail strategy, there are relatively few retailers that specialize in hammocks alone. But that doesn't mean breaking into the hammock-only market is going to be easy. Right away, you'll need to identify the characteristics that set your hammocks apart from other hammock niche retailers.
Always, always, always evaluate the marketplace before you settle on a startup strategy and business plan. Visibility to the products that are being offered by other successful hammock retailers will provide the information you need to create product line. For example, after conducting market research, you may discover that there is a market for hammocks featuring hand-carved wood stands or other distinctive components. Another possibility may be to focus on selling hammocks and swing chairs for indoor use.
Product Line Expansion for Hammock Retailers
So you have developed a unique product line and your hammock business is off to a solid start. Now it's time to grow your business by expanding your product line. Does that mean also offering the same kinds of hammocks that are already being offered by other retailers? Not necessarily.
Rather than simply imitating other retailers, consider your brand distinctives. What elements make your hammocks stand out from the rest of the field? Leverage those elements to deliver a broader range of products, fabric choices, etc., solidifying your brand and expanding your startup's revenue opportunities.
Elements of a Hammock Retailer Business Plan
Your hammock retailer's business plan should be tailored to your business's unique traits and goals. However, the most effective business plans do address specific sound business plan elements:
Mission Statement – Your description of your hammock retailer's reason for existing.
Goals & Objectives – A list of mile markers on your hammock retailer's road to success.
Financial, Marketing & Action Plans – More detailed descriptions of how you will carry out your mission and achieve your hammock retailer's goals.
Evaluate Competitors
Prior to opening a hammock retailer within your community, it's a smart move to find out how strong the competition is. We've provided the link below to help you get a list of local competitors in your area. Simply enter your city, state and zip code to get a list of hammock retailers in your town.
Prior to opening your doors for business, be sure you fully understand the competitive landscape and where your new business will fit in.
Turning Competitors Into Collaborators
If you want to open a hammock retailer be sure to have a conversation with someone who is in the business. It's very unlikely that the local competition will talk to you. What's in it for them?
On the other hand, an individual who has a hammock retailer on the other side of the country can be a great learning resource for you, given that you don't compete with them in their area. In that case, the business owner may be more than happy to discuss the industry with you. In my experience, you may have to call ten business owners in order to find one who is willing to share his wisdom with you.
Want the scoop on finding a hammock retailer manager in another city who you can speak with?
Simply, try our helpful link below, type in a random city/state or zipcode, and start calling.
Three Arguments for Buying a Hammock Retailer
It's almost always preferable to buy a hammock retailer than to pursue a hammock retailer startup.
You'll want to conduct a comprehensive due diligence process, but here are three arguments why you should think about buying instead of a startup.
Initial Revenue. Startups struggle to bring in revenue right out of the gate while existing businesses usually have a steady stream of income.
Operational Efficiency. When you're shopping for a hammock retailer, be sure to look for ones that have all of the necessary processes and systems to ensure seamless operations from your first day of ownership.
Funding. Lenders, investors and other funding sources almost always prefer business purchases to startups.
Franchising May Be a Better Way to Go
The chances of becoming a successful entrepreneur increase when you franchise and benefit from the prior work of others and their lessons learned.
Before starting a hammock retailer, you ought to determine whether purchasing a franchise might alleviate your startup process.
The link below gives you access to our franchise directory so you can see if there's a franchise opportunity for you. You might even find something that points you in a completely different direction.
Other Useful Articles for Startup Entrepreneurs
These additional resources regarding starting a business may be of interest to you.
Coming Up With Good Business Ideas
Share this article
---
Additional Resources for Entrepreneurs