Entrepreneur Idea Guide
Starting a Horse Transportation Business
This advice is perfect for those who are thinking about starting a horse transportation business. Make sure you consider this advice before you start!
Thinking about opening a horse transportation business? We tell you what you need to know to get started.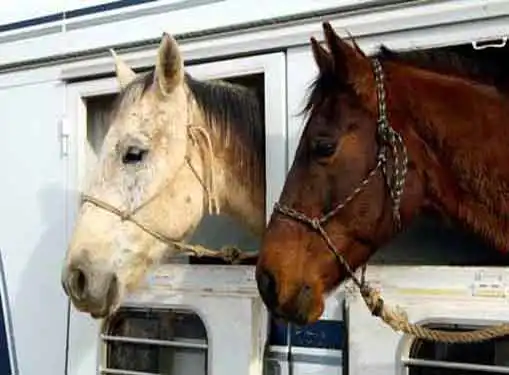 Horse Industry Overview
The impact of the horse industry on the U.S. economy can't be denied. Each year, the horse industry directly contributes approximately $40 billion to the nation's GDP. With more than 2 million horse owners scattered throughout the U.S., businesses that cater to the equine community continue to experience steady demand for their products and services.
Startup horse transportation entrepreneurs should be familiar with the various industry segments that constitute a balanced customer base. Annual equine expenditures are roughly divided into three equal customer segments: Recreation, showing and racing customers.
Although the recreation segment may be your startup's most lucrative transportation target, all three segments should be addresses in your business's customer acquisition strategy.
Funding a Horse Transportation Startup
It takes more than a love for horses to launch a horse transportation startup. Viable horse transport companies require capital assets in the form of customized, multi-horse trailer(s), commercial truck(s) and other equipment to facilitate the safe transportation of horses across town or across the country.
The process of raising startup capital can be daunting for new entrepreneurs. Although it's possible to secure small business loans, it's realistic to assume that you will need to fund your startup from personal savings, family investments or loans, and personal financing.
If it takes longer to secure startup capital than you thought it would, be patient. One of the worst mistakes you can make is to launch your transportation business from an underfunded capital position.
Special Considerations for Equine Transport Startups
Successful horse transportation companies make customer service their first priority. Horse owners are usually very concerned about the safety of their animals during transport. As a result, your business model needs to emphasize resources and policies that create a high level of animal care and safety.
In the animal transportation industry, professional drivers must also be experienced horsemen who are capable of caring for their cargo in transit. It's nice to offer prospects photos of your equipment, but more often than not it's the quality of your drivers and transportation procedures that will convert them to customers.
Characteristics of a Good Horse Transportation Company Business Plan
Looking for a one-size-fits-all business plan? Good luck. . . because it doesn't exist. But if it's done right, your horse transportation business's plan should contain a handful of sound business plan elements:
Mission Statement – A foundational statement of your company's direction and strategy.
Goals & Objectives – The end results of your company's business activities.
Financial, Marketing & Action Plans – Specific plans that describe your business environment, demographic targets and quantitative estimates.
Don't Ignore Competitors
Long before you open a horse transportation business in your area, it's essential to determine how strong the competition is. We've provided the link below to help you generate a list of competitors in your area. After following the link, enter your city, state and zip code to get a list of horse transportation businesses in your area.
Is the established competition doing a good job? It's important to understand their strengths and weaknesses and think through how you'll stake up against those established businesses.
Learn from Others Who Are Already In This Space
Once you've finished assessing the competion, the next step is to have a conversation with someone who is in the business. If you think owners of nearby horse transportation businesses will give you advice, think again. Why would they want to educate a future competitor?
However, a fellow entrepreneur who has started a horse transportation business in a location that is not competitive to you may be more than happy to give you a few tips, provided that you won't be directly competing with them. Indeed, many experienced entrepreneurs enjoy offering advice to startup entrepreneurs. It can take a while to find an entrepreneur who is willing to talk, but it's well worth the effort.
What's the process for finding a horse transportation business founder that lives outside of your area?
Easy. Find them using our link below and start calling until you are successful.
Top Three Reasons to Buy an Established Horse Transportation Business
At Gaebler, we think it makes a lot of sense to explore a horse transportation business purchase before committing to a startup.
You'll want to conduct a comprehensive due diligence process, but here are three arguments why you should think about buying instead of a startup.
Proven Profitability. Startups struggle to bring in revenue right out of the gate while existing businesses usually have a steady stream of income.
Operational Efficiency. When you're shopping for a horse transportation business, be sure to look for ones that have all of the necessary processes and systems to ensure seamless operations from your first day of ownership.
Capital Acquisition. Lenders, investors and other funding sources almost always prefer business purchases to startups.
Is Franchising the Right Option?
If you prefer to partner with others to launch your new business, you should consider buying a franchise rather than starting a business from scratch.
If you are thinking about opening a horse transportation business, you ought to assess whether purchasing a franchise might alleviate your startup process.
The link below gives you access to our franchise directory so you can see if there's a franchise opportunity for you. You might even find something that points you in a completely different direction.
Related Articles on Starting a Company
These additional resources regarding starting a business may be of interest to you.
Consideration Before Buying a Franchise
Share this article
---
Additional Resources for Entrepreneurs