Entrepreneur Guidance
Starting a Metal Roofs & Siding Business
Starting a metal roofs and siding business is an excellent entrepreneurial opportunity if you do it right. We provide a few secrets on successfully operating a small business.
Thinking about opening a metal roofs and siding business? We tell you what you need to know to get started.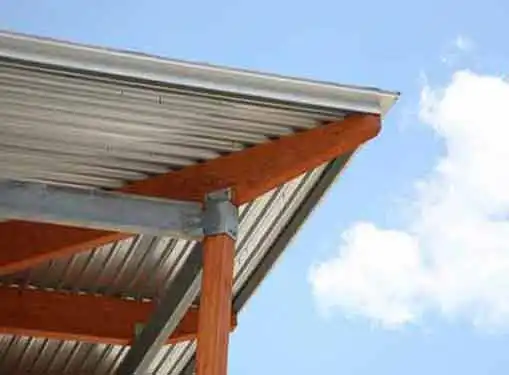 The Benefits of Metal Roofs & Siding
Education is one of the first hurdles new entrepreneurs in the metal construction business need to overcome. In many people's minds, the idea of metal roofing and siding conjures images of a rusty, corrugated tin shack. In reality, today's metal roof and siding industry leverages advances in technology to create products that offer a number of architectural advantages over other building materials.
Modern metal siding and roofing materials are non-combustible, corrosion resistant and fully recyclable. In areas with extreme weather patterns, commercial properties gain the benefit of a durable building product that is extremely cost-efficient and attractive -- a big plus for nearly any construction or retrofit budget.
By emphasizing these and other benefits in your startup's ad messages, you can begin to educate prospective customers about the advantages of metal roofing and siding products. More importantly, you can create powerful incentives for new customers to choose your operation over traditional building supply and installation contractors, and effectively differentiate your business from the competition.
Determining the Scope of a Metal Roof & Siding Startup
Most metal roof and siding businesses begin as suppliers and installers. As an unknown quantity in the local market, your startup can benefit from offering products from brand name manufacturers. Just as importantly, the startup costs for supply and installation providers are substantially lower than they are for manufacturing operations.
As their businesses grow, metal roof and siding entrepreneurs often expand into the manufacturing arena. Innovation is typically the driving force behind the decision to move into manufacturing. When supply and installation operations recognize product gaps in metal siding and roofing systems (e.g. panels, vents, accessories), they set out to manufacture new products to meet their customers' needs.
Overall, the metal construction industry is a progressive business arena that moves forward on the shoulders of entrepreneurial drive and practical creativity. During your startup's early days, it's important to cast a vision and strategy to transform the insights you glean from the field into growth and expansion opportunities for your business.
Best Practices: Business Plans for Metal Roofs & Siding Businesses
Struggling to get the attention of lenders and investors? Maybe it's because you're lacking a high quality business plan.
The financial section of your business plan is especially relevant to funding concerns. Not surprisingly, lenders immediately turn to the financial section and use the accuracy of your forecasts to gauge the value of other parts of the plan.
Subsequently, a thorough understanding of business plan financial basics is a prerequisite to effective business plan writing for metal roofs and siding businesses.
Don't Overlook the Competition
Long before you open a metal roofs and siding business within your community, it's worthwhile to find out how you will fit in the competitive landscape. Use the link below to get a list of local competitors in your city. Complete the form by entering your city, state and zip code to get a list of metal roofs and siding businesses that are close by.
Gain a knowledge of how existing firms have positioned themselves in the marketplace, and then design your business in a way that sets you apart from the others.
Getting Advice from Experienced Entrepreneurs
If you are seriously contemplating launching a metal roofs and siding business, it's a smart move to talk to somebody who is already in the business. If you think your local competitors will give you advice, you're being overoptimistic. What's in it for them?
Fortunately, somebody who runs a metal roofs and siding business in a location that is not competitive to you will be much more likely to talk with you, given that you don't compete with them in their area. Indeed, many experienced entrepreneurs enjoy offering advice to startup entrepreneurs. If you are persistent, you can find a business mentor who is willing to help you out.
Where can an aspiring entrepreneur like you find a metal roofs and siding business founder on the other side of the country to talk to?
It's not that hard. Just use the handy link below and enter in a random city/state or zipcode.
Financial Benefits of Buying a Metal Roofs & Siding Business
Startup metal roofs and siding businesses carry a host of financial risks and concerns. Without an operational history, it's hard to predict how your startup will actually perform in the marketplace.
One of the ways to mitigate the financial risk of a startup is to modify your approach to tap into the financial benefits of buying an existing metal roofs and siding business. Many entrepreneurs buy an existing business for the sole purpose of tapping into the financial benefits of an established customer base.
But most importantly, existing metal roofs and siding businesses have documented financial histories. Although you can create pro forma earnings and financial statements for a startup, a business-for-sale should have a well-documented, multi-year history of financial performance.
Explore Franchising Options
Your odds of achieving your top business goals go up significantly when you join the ranks of franchisees in lieu of doing everything yourself.
Before starting a metal roofs and siding business, you would be wise to investigate whether buying a franchise could increase your chances of success.
The link below gives you access to our franchise directory so you can see if there's a franchise opportunity for you. You might even find something that points you in a completely different direction.
Related Articles on Starting a Company
These additional resources regarding starting a business may be of interest to you.
Recurring Revenue Business Models
Share this article
---
Additional Resources for Entrepreneurs