Entrepreneur Ideas
Starting a Steel Fabrication Business
Considering opening a steel fabrication business? If you need help in starting your business, we offer an excellent primer on how to get started.
Thinking about opening a steel fabrication business? We tell you what you need to know to get started.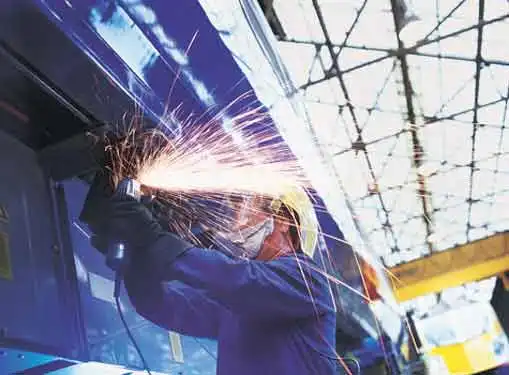 Breaking Into Steel Fabrication
Steel fabrication offers tremendous opportunities for entrepreneurs with a background in industrial manufacturing or metalwork. Although a working knowledge of steel fabrication processes is a foundational for entrepreneurs interested in pursuing a startup, many new owners hire experienced craftsmen so they can focus on the business side of the operation.
The portfolios of today's leading steel fabrication businesses include a variety of custom jobs for commercial, industrial and even government clients. A typical operation handles everything from project estimates to fabrication and finishing. In fact, an end-to-end production process can be a key feature in marketing your startup to new customers.
Deciding What Types of Clients to Take On
The scope of your steel fabrication startup will be based primarily on the size of your space and the capacity of your equipment. The largest fabricators can handle custom steel projects of 120,000 pounds or more, but capital limitations may restrict your ability to tackle large jobs during the early years of your business. Commercial and industrial real estate leases are the norm; most serious fabricators inhabit 65,000+ square ft. spaces.
Key Considerations for Entrepreneurs in the Steel Fabrication Industry
As a startup steel fabricator, you need to be concerned with both the frontend and backend of your operation. In addition to an inventory of multi-grade steel, your shop needs to be equipped to perform a range of functions including folding, shearing, welding, drilling, painting and finishing. Computerized equipment has become standard in the industry, making it necessary to conduct periodic equipment upgrades and training/retraining of your workforce.
On the frontend, you'll need to aggressively market and sell your business. Since owners with a shop background may lack sales and marketing expertise, it may be worthwhile to hire a sales team and outsource marketing to a professional firm. Regardless, it's critical to maintain a professional business website containing a portfolio of satisfied customers and ample images of your workspace.
Creating a First-Rate Steel Fabrication Company Business Plan
It's virtually impossible for your steel fabrication business to succeed without an effective business plan.
Accuracy and an eye for detail count when writing a business plan. Fudging the numbers is the equivalent of sabotaging your steel fabrication business's strategic interests.
Instead, commit to creating the most precise business plan possible. As a further guide, consider what the experts say about business plan writing.
Review the Competition
Prior to launching a steel fabrication business in your town, it's a smart move to find out how many competitors you have. Use the link below to get a list of local competitors in your area. Complete the form by entering your city, state and zip code to get a list of steel fabrication businesses that are close by.
Is the established competition doing a good job? It's important to understand their strengths and weaknesses and think through how you'll stake up against those established businesses.
Learn from Others Who Are Already In This Space
If you are seriously contemplating launching a steel fabrication business, it's essential that you learn as much as you can from somebody who is already in the business. Local competitors are not going to give you the time of day, mind you. The last thing they want to do is help you to be a better competitor.
However, a fellow entrepreneur who has started a steel fabrication business outside of your community may be willing to share their entrepreneurial wisdom with you, after they realize you reside far away from them and won't be stealing their local customers. In that case, the business owner may be more than happy to discuss the industry with you. If you are persistent, you can find a business mentor who is willing to help you out.
How would you find somebody who runs a steel fabrication business in another community?
We can help. Follow the link below, try a few city/state combos or zipcodes, and then start calling!
Guidelines for a Steel Fabrication Business Acquisition
There are a lot of reasons why it may be preferable to acquire a steel fabrication business instead of starting a new business venture.
An acquisition isn't necessarily a bed of roses. You'll need to thoroughly evaluate the factors involved with buying a business. Right away, you'll want to make sure the business is capable of meeting your ownership expectations.
If the business is right for you, the assistance of a business broker will help all of the rest of the pieces of the process fall in place and you will be well on your way to owning a proven steel fabrication business.
Don't Rule Out Franchising
You should know that your odds of thriving in your new business go up significantly if you buy a franchise and leverage their successful brand and track record.
Prior to making the decision to open a steel fabrication business, you would be wise to investigate whether there are good franchise opportunities available that might make it easy to get started.
The link below gives you access to our franchise directory so you can see if there's a franchise opportunity for you. You might even find something that points you in a completely different direction.
Related Articles on Starting a Company
These additional resources regarding getting started as an entrepreneur may be of interest to you.
Questions to Ask Before Starting a Business
Consideration Before Buying a Franchise


Share this article
---
Additional Resources for Entrepreneurs