I Want to Start a Small Business
Starting a Videography Business
What are the steps required to open a videography business? This article discusses everything you should know before you open a videography business.
Thinking about opening a videography business? We tell you what you need to know to get started.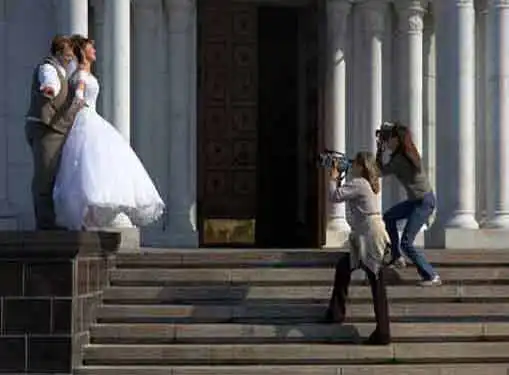 Why Now Is the Right Time to Get Into the Videography Business
There are several factors behind the exponential growth in demand for professional videography, but advances in technology lead the list. Digital video technology is less expensive than ever before with professional quality kits starting as low as $1,000. Combined with prevalence of Internet distribution channels and consumer digital storage devices, the low barriers to entry make a videography business an attractive startup for video hobbyists.
Although the marketplace is quickly being populated with ambitious video entrepreneurs, now is a great time to launch a videography business. The sooner you launch a wedding or special event videography company, the quicker you can develop the professional portfolio, referral base and industry reputation that are essential for long-term growth.
Phase-In Strategy for Full-Time Videographers
Videography businesses belong to a unique class of small businesses that can be launched on a part-time basis. If you're into video production, you probably already have the basic equipment you'll need to start shooting video for clients. With a minimal upfront investment, you can launch a videography business out of your home and gradually make the leap to a full-time entrepreneurial career.
As a part-time entrepreneur, you'll need to be prepared for the challenges of home-based business ownership. While some new business owners thrive in a home-based business environment, others find that it is a disaster for both their business and their personal lives. More importantly than anything else, you will need to set boundaries and create a system that allows you to give your business the attention it deserves -- without destroying your family in the process.
The Key to Growing a Startup Videography Business
Every year, talented and capable videography businesses fail, not because they didn't deliver superior services, but because they didn't recognize the importance of basic business skills like marketing and customer service.
Most videographers are drawn to things like photographic technique and equipment. But like it or not, your customers aren't nearly as concerned about your equipment as they are about the quality of service you provide. Consequently, you'll need to deliberately set aside the latest issue of Popular Photography and focus on customer service and other business skills as primary business activities.
As you expand your business, you should also begin to consider membership in trade organizations like WEVA, the Wedding & Events Videographer Association. Participation in trade organizations gives your business an added layer of credibility and puts you in direct contact with people who specialize in the business of professional videography.
Best Practices: Business Plans for Videography Businesses
A great business plan will lay a strong foundation for growth in your startup videography business.
The financial section of your business plan is especially relevant to funding concerns. Not surprisingly, lenders immediately turn to the financial section and use the accuracy of your forecasts to gauge the value of other parts of the plan.
Subsequently, a thorough understanding of business plan financial basics is a prerequisite to effective business plan writing for videography businesses.
Take a Look at Competitors
Prior to opening a videography business in your town, it's essential to determine how many competitors you have. We've provided the link below to help you generate a list of competitors in your city. Just enter your city, state and zip code to get a list of videography businesses in your community.
It's important to be aware of what the competition is doing. Take the time to visit the competition to properly assess their strengths and weaknesses.
A Good Source of Advice
If you are interested in starting a videography business, the next step is to have a conversation with someone who is in the business. It's very unlikely that the local competition will talk to you. Why would they want to educate a future competitor?
But, a person who owns a videography business outside of your community may be willing to share their entrepreneurial wisdom with you, once they realize that you are not going to directly compete with them in their community. Indeed, many experienced entrepreneurs enjoy offering advice to startup entrepreneurs. It can take a while to find an entrepreneur who is willing to talk, but it's well worth the effort.
How do you locate a videography business founder that lives outside of your area?
Simply, try our helpful link below, type in a random city/state or zipcode, and start calling.
Financial Benefits of Buying a Videography Business
Startup videography businesses carry a host of financial risks and concerns. Without an operational history, it's hard to predict how your startup will actually perform in the marketplace.
Financial risk management requires you to at least consider the possibility of setting your startup plans aside to explore acquisition opportunities. Many entrepreneurs buy an existing business for the sole purpose of tapping into the financial benefits of an established customer base.
An acquired business also has documented assets and earnings - a big advantage with lenders and investors.
Don't Rule Out Franchising
Startup small business owners are at definite disadvantage compared to entrepreneurs who buy an established operation.
Franchise videography business startups offer the best of both worlds. They offer the security of an established company combined with the growth potential of a new business launch.
If the idea of franchising sounds attractive, we invite you to click the link to our video photography franchise directory. This directory contains a wide range of franchise options for videography businesses and other types of businesses that may be useful in achieving your entrepreneurial goals.
More Advice for Startups
These additional resources regarding getting started as an entrepreneur may be of interest to you.
Share this article
---
Additional Resources for Entrepreneurs