Starting a Business
Starting an Auto Tire Shop Equipment & Supplies Business
Opening an auto tire shop equipment and supplies business is an excellent entrepreneurial opportunity but it's important to plan out the business in detail before you start. We offer tips and advice that instructs you on how to start your business.
Thinking about opening an auto tire shop equipment and supplies business? We tell you what you need to know to get started.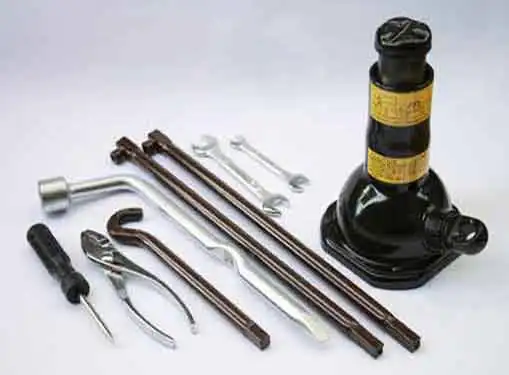 Getting an Auto Tire Shop Off the Ground
There are more vehicles on the road now than at any other time in the nation's history. Business is booming for auto tire shops and their suppliers. Startup auto tire shop equipment and supply companies have the potential to reap substantial profits, but only to the degree that they are capable of meeting the full range of their customers' supply and equipment needs.
Although some auto tire shops may stock tires directly from the manufacturer, wholesalers and distributors can still leverage a one-stop supplier approach by providing retailers with the rest of their equipment and supplies. Auto lifts, wheel balancers, tire changers, lathes, cabinetry and other products are all fertile ground for a wholesaler willing to give tire shops a complete vendor experience.
Before you can establish relationships with tire shop owners, you'll need to secure your position in the supply chain. Distributorship opportunities exist for a range of tire-related product lines. Carefully evaluate each supplier's products, contract terms and delivery schedule before you commit to a distributorship.
If you're successful, your customer base will include a diverse mix of tire-related businesses. Standalone tire shops can still be found, but it's common for auto service companies to offer other services (e.g. mufflers, brakes, etc.) in addition to tire replacement and repair.
Many startup tire equipment and supply owners start by focusing on specific geographic territories. In many cases, your territorial boundaries will be limited by the terms of distributorship contracts. However, you may be able to expand your reach through online marketing. A first-rate company website with an online ordering option is essential for startup entrepreneurs who are committed to quickly dominating their territory and expanding their company's reach.
How to Write an Effective Auto Tire Shop Equipment & Supplies Company Business Plan
It's virtually impossible for your auto tire shop equipment and supplies business to succeed without an effective business plan.
Accuracy and an eye for detail count when writing a business plan. Fudging the numbers is the equivalent of sabotaging your auto tire shop equipment and supplies business's strategic interests.
Instead, commit to creating the most precise business plan possible. As a further guide, consider what the experts say about business plan writing.
Investigate the Competition
Long before you open an auto tire shop equipment and supplies business in your town, it's essential to see what the competition looks like. Try our link below to generate a list of competitors in your city. After clicking on the link, type in your city, state and zip code to get a list of auto tire shop equipment and supplies businesses near you.
Prior to opening your doors for business, be sure you fully understand the competitive landscape and where your new business will fit in.
Turning Competitors Into Collaborators
If you are interested in starting an auto tire shop equipment and supplies business, it's a smart move to talk to somebody who is already in the business. Local competitors are not going to give you the time of day, mind you. The last thing they want to do is help you to be a better competitor.
On the other hand, an individual who has an auto tire shop equipment and supplies business on the other side of the country may be willing to share their entrepreneurial wisdom with you, given that you don't compete with them in their area. In that case, the business owner may be more than happy to discuss the industry with you. It can take a while to find an entrepreneur who is willing to talk, but it's well worth the effort.
How does one quickly and easily locate an entrepreneur who is running an auto tire shop equipment and supplies business outside of your area who is willing to talk?
Simply, try our helpful link below, type in a random city/state or zipcode, and start calling.
Guidelines for an Auto Tire Shop Equipment & Supplies Business Acquisition
It's fairly common for auto tire shop equipment and supplies business entrepreneurs to gain entry through a business acquisition.
Although buying an auto tire shop equipment and supplies business offers several advantages for startup entrepreneurs, there are still several key factors to consider. Right away, you'll want to make sure the business is capable of meeting your ownership expectations.
If the business is right for you, the assistance of a business broker will help all of the rest of the pieces of the process fall in place and you will be well on your way to owning a proven auto tire shop equipment and supplies business.
Don't Rule Out Franchising
The probabilities on your becoming a successful entrepreneur greatly improve if you opt for franchising and leverage their successful brand and track record.
Prior to making the decision to open an auto tire shop equipment and supplies business, you would be wise to assess whether franchise opportunities in your space might make your life much easier.
The link below gives you access to our franchise directory so you can see if there's a franchise opportunity for you. You might even find something that points you in a completely different direction.
Other Useful Articles for Startup Entrepreneurs
These additional resources regarding getting started as an entrepreneur may be of interest to you.
Share this article
---
Additional Resources for Entrepreneurs