Retailing Advice
Store Meetings
Holding a store meeting every morning before the customers arrive is a great way to make sure everyone on your staff gets the latest info and is aware of your store policies.
How do you distribute important information to your store employees?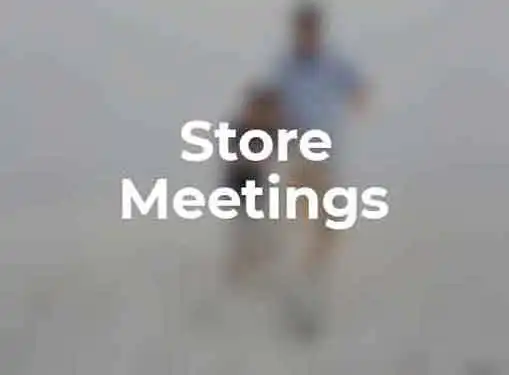 Memos and posted flyers are fine, but you can't be sure anybody reads them. If you meet with your employees individually you know they will get the message, but the time commitment is more than you are willing to invest. Fortunately, your last option could also be the most effective one: Store meetings.
Store meetings can be either a bane or a blessing. The difference between the two often boils down to your ability to make the meeting worthwhile. If nothing substantial happens during your store meetings, both you and your employees will begin to see them as a waste of time. But if your store meetings are chocked full of useful information, they will quickly become an invaluable part of your business.
Frequency
The frequency of your store meetings depends on the size and activity of your store. For many stores, weekly meetings are overkill because there just isn't enough activity to justify getting together. Instead, monthly meetings seem to be the norm for small retailers. As you grow, the meeting schedule can be adjusted to meet every other week or even weekly as the need arises.
Time and Place
Although there is a lot of flexibility in setting the time of your meetings, they should always occur during off hours at the store itself. Immediately before the store opens or after it closes are popular meeting times, but be aware that employees may be more attentive before they have put in a long workday. Regardless of the time you choose, it's usually better to keep it consistent from month to month.
Agenda
So what should you talk about at your store meetings? The short answer is anything your employees need to know in order to fulfill the store's mission. In practice, however, most store meetings focus on issues like goals, policies, procedures, customer service, and loss prevention. It is helpful for meeting attendees to receive an agenda in advance so they can come prepared to discuss and ask questions. You may also want to encourage your employees to suggest other agenda items far in advance of the meeting time.
Tone
Without exception, the tone of your store meetings should always remain upbeat and positive. If problems need to be addressed, try to address them in a way that focuses on finding solutions rather than dwelling on blame-finding and finger-pointing. Under no circumstances should you use a store meeting as an opportunity to rebuke, chastise, or embarrass an employee. If individual problems arise, wait until you can meet with the employee in private to discuss them.
Follow-Up
The primary purpose of a store meeting is to exchange information with your employees. The real work begins in the follow-up that happens after the meeting has ended. Once the employees have received information at the store meeting, you have both the basis and responsibility for following up with them to make sure the agenda items are actually being implemented.
Share this article
---
Additional Resources for Entrepreneurs