Becoming an Entrepreneur
How to Start a Candy Store
These tips are written for those who plan on opening a candy store. Read this before you start!
Wondering how to start a candy store? We take you step-by-step from start to success.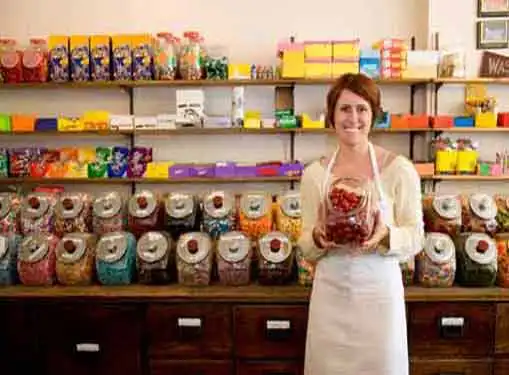 Candy Industry Overview
In the U.S., candy manufacturing is a $20 billion a year industry, making candy store startups a "sweet" idea for many entrepreneurs. But the odds of becoming the next Hershey or Nestle's is remote, especially since national market candy manufacturing is a cutthroat industry dominated by large, corporate interests.
Candy Store E-Commerce?
The most effective candy store startup business plans focus on localized manufacturing and retail operations, with the possibility of expanding their reach through online retailing (or ecommerce). Although the smell of your confections will invite foot traffic to your candy shop, an exceptional business website has the potential to drive sales.
Mouth-watering images of chocolates, truffles, hard candy, fudge and other products are hard to resist -- and if your website incorporates a reliable e-commerce platform, the right photos can translate into a steady stream of orders from customers located throughout the nation.
Niche Strategy for a Specialty Candy Store
Boutique or specialty candy stores can be extremely effective avenues for aspiring confectioners to enter the world of small business ownership. Chocolateries and other specialty shops consistently capture the imagination of consumers, provided they have sufficient visibility in the marketplace.
To succeed as a specialty candy store, you will need to become a master of niche marketing strategies. As a niche candy store owner, you will be expected to be an expert in your niche, so it's important to make sure the niche you choose showcases the strongest aspects of your candy-making skill set.
How to Create Effective Candy Store Business Plans
A great business plan will lay a strong foundation for growth in your startup candy store.
The most effective candy store business plans include a comprehensive chapter on finances. Not surprisingly, lenders immediately turn to the financial section and use the accuracy of your forecasts to gauge the value of other parts of the plan.
As a result, we strongly recommend educating yourself in business plan financial basics before finalizing your business plan's financial chapter.
Location Selection
Your business will have a strong local presence. Your startup plan should start with gathering intelligence about the local community How will potential changes impact your new candy store? Is the community ethnically diverse? Visit the library when you get a chance. Local reference librarians have computer databases that can give you access to the demographic information you need.
Evaluate Competitors
Long before you open a candy store in your town, it's essential to see how strong the competition is. Try our link below to get a list of local competitors nearby. Simply enter your city, state and zip code to get a list of candy stores in your town.
Is the established competition doing a good job? It's important to understand their strengths and weaknesses and think through how you'll stake up against those established businesses.
Learn from Others Who Are Already In This Space
After you've evaluated your local competitors, be sure to talk to somebody who is already in the business. It's very unlikely that the local competition will talk to you. Why would they want to educate a future competitor?
On the other hand, an individual who has a candy store outside of your community will be much more likely to talk with you, as long as they don't view you as a competitive threat. In fact, they are often very willing to share startup advice with you. In my experience, you may have to call ten business owners in order to find one who is willing to share his wisdom with you.
Where can an aspiring entrepreneur like you find somebody who runs a candy store outside of your area who is willing to talk?
Simple. Let your fingers do the walking by using the link below.
Financial Benefits of Buying a Candy Store
Startup candy stores carry a host of financial risks and concerns. Without an operational history, it's hard to predict how your startup will actually perform in the marketplace.
Although there are many benefits to buying an existing candy store, the financial advantages rank near the top of the list. Many entrepreneurs buy an existing business for the sole purpose of tapping into the financial benefits of an established customer base.
An acquired business also has documented assets and earnings - a big advantage with lenders and investors.
Franchising May Be a Better Way to Go
The four-year survival rate for business startups is less than fifty-percent. Survival rates improve when entrepreneurs launch a candy store franchise. Unlike traditional business models, franchise startups launch with many of the resources and learnings that other startups acquire over time.
At a minimum, click the link below to explore the possibility of pursuing a franchised approach to your candy store startup.
Entrepreneur Interviews
These interviews should be of interest to you.
Other Useful Articles for Startup Entrepreneurs
These additional resources regarding getting started as an entrepreneur may be of interest to you.
Recurring Revenue Business Models


Share this article
---
Additional Resources for Entrepreneurs