Entrepreneur Ideas
How to Start a Scissor Sharpening Business
This advice is ideal for entrepreneurial folks who want to open a scissor sharpening business. Read this advice before you open up shop.
Thinking about opening a scissor sharpening business? We tell you what you need to know to get started.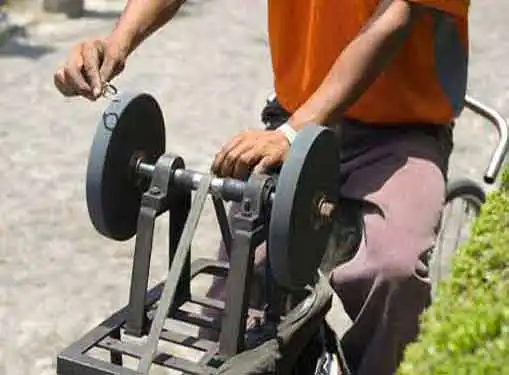 Most scissor sharpening services earn the bulk of their revenues by sharpening professional-grade stylist shears.
Scissor Sharpening Business Snapshot
For the uninitiated, the idea of starting a profitable business based solely on the concept of sharpening scissors sounds marginal, at best. But for entrepreneurs who understand the hair care industry, a scissor sharpening startup has the potential to deliver high returns.
Like chefs, hair stylists invest hundreds and even thousands of dollars in their personal equipment. A set of professional quality shears can cost hundreds, so stylists have a financial incentive to make their equipment last as long as possible.
Scissor sharpening businesses service professional grade shears and return them in "like new" condition. In most cases, stylists ship their scissors, clippers and other equipment to the sharpening business, paying as much as $45 for sharpening and fast turnaround delivery.
Startup Capital Requirements for Scissor Sharpening Operations
When it comes time to market your business a high quality business website will be invaluable for extending your reach to a geographically diverse customer base. But before you can start marketing your services to prospective clients, you'll need to raise enough startup capital to buy a commercial sharpening system.
The sophistication of today's styling shears usually precludes hand grinding, so you'll need to invest in a sharpening system capable of handling flat honing and other techniques required to service beveled edge and the 800 millimeter radius common in popular Japanese shear models. Prices vary depending on a system by system basis, but expect to pay thousands for a sharpening machine that can service a range of products.
Value Added Elements for a Scissor Sharpening Startup
As an emerging scissor sharpening entrepreneur, you'll need to devise a market penetration strategy that incentivizes stylists to abandon their current sharpening service provider and give your business a try.
Value added elements are effective tools for helping your startup capture market share from established providers. In the scissor sharpening industry, startups sometimes offer free shipping, shear sales and specialization (i.e. authorized sharpeners for specific brands) to differentiate their companies from the competition and offer more value for their services.
Tips for Writing a Scissor Sharpening Company Business Plan
Many new scissor sharpening business owners feel unprepared for the challenge of writing a business plan.
Fortunately, you don't have to tackle your scissor sharpening company's business plan by yourself. There is a broad range of resources available for solo entrepreneurs who face the daunting task of writing a business plan from scratch.
If you're feeling overwhelmed, take a look at Gaebler's Business Plan Help section for a list of business plan writing resources.
Take a Look at the Competition
Before you open a scissor sharpening business in your area, it's a smart move to find out how many competitors you have. Try our link below to get a list of local competitors in your area. After clicking on the link, type in your city, state and zip code to get a list of scissor sharpening businesses near you.
Gain a knowledge of how existing firms have positioned themselves in the marketplace, and then design your business in a way that sets you apart from the others.
Getting Advice from Experienced Entrepreneurs
As part of your due diligence on opening a scissor sharpening business, you really ought to speak with somebody who is already in the business. It's very unlikely that the local competition will talk to you. Why would they want to educate a future competitor?
But, a person who owns a scissor sharpening business in another town can be a great learning resource for you, once they realize that you are not going to directly compete with them in their community. Indeed, many experienced entrepreneurs enjoy offering advice to startup entrepreneurs. Our estimate is that you may have to contact many business owners to find one who is willing to share his wisdom with you.
What's the process for finding an entrepreneur who is running a scissor sharpening business who is willing to talk to you but doesn't live nearby?
No problem! Just use the link below and try a random city/state or zipcode. Then start dialing for advice until you are successful.
Benefits & Drawbacks of a Scissor Sharpening Business Acquisition
An acquisition can be a great way to enter scissor sharpening business ownership. But it's important to evaluate the benefits and drawbacks of buying a business before you decide on either an acquisition or startup approach.
PROs: A good scissor sharpening business will deliver revenue and ROI from day one. Even more, the right scissor sharpening business acquisition can place you in a market leadership position from your first days as a business owner.
DRAWBACKS: However, purchased companies can also come with pre-existing challenges and/or liabilities. Ultimately, it may be more difficult to tailor a purchased business to your ownership style.
Don't Forget About Franchising As an Option
The probabilities on your thriving in your new business go up significantly if you buy a franchise instead of doing it all on your own.
Prior to making the decision to open a scissor sharpening business, you should determine whether purchasing a franchise might be the right move for you.
The link below gives you access to our franchise directory so you can see if there's a franchise opportunity for you. You might even find something that points you in a completely different direction.
Related Articles on Starting a Company
These additional resources regarding starting a business may be of interest to you.
Share this article
---
Additional Resources for Entrepreneurs