Starting a Business
How to Start an ATV Tour Business
Here's some helpful information that is perfect for aspiring entrepreneurs who hope to start an ATV tour business. Read this article before you open up shop.
This article includes some useful suggestions on starting an ATV tour business.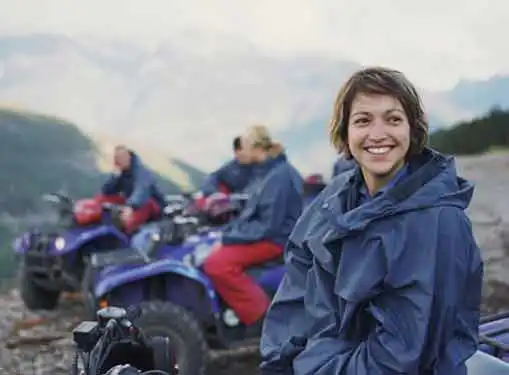 The Mud, Sweat and Gears of an ATV Tour Startup
ATV touring has catapulted into the mainstream of the travel and tourism industry. Unlike buses, ATVs give tourists a certain amount of independence, and direct access to the sights and sounds of their destination. For some tourists, the sensation of the wind flying through their hair as they blaze through unfamiliar terrain is enough to justify the premium of an ATV tour.
ATV tours offer unique value elements for tourism consumers. But they also present some unique challenges to startup entrepreneurs. The independence ATV consumers enjoy means that ATV tour owners have considerably less control over their customers' safety and actions. Without proper safeguards, your ATV tourism dream could quickly become a small business nightmare.
One of the other challenges you'll need to contend with is equipment maintenance. ATVs are made to take a beating. But daily use by inexperienced riders increases the amount of wear and tear on your equipment, so you'll need to either take care of vehicle maintenance internally or outsource maintenance requirements to an ATV repair provider.
Designing an Effective ATV Tour Operation
Location is the first and most critical element of a successful ATV tour startup. In an ideal world, your startup will be located in a tourist area with abundant outdoor resources that aren't accessible by traditional transportation methods. In the right scenario, your ATV tour company could be one of the few ways for tourists to reach inaccessible destinations. But at a minimum, you'll need tourist traffic and access to ATV trails.
Marketing, pricing and other typical small business concerns need to be addressed in your business plan, as well as the format for daily operations. Guided tours are more costly from a labor perspective, but they can decrease operational risk and lessen the amount of damage to your vehicles.
On the other hand, unguided tours and a combination ATV tour/ATV rental operation have the potential to maximize profit by increasing revenue opportunities and decreasing labor costs. Whichever format you choose, make sure your decision fits with the needs of your target market and your personal goals for your ATV tour startup.
Staff Requirements for ATV Tour Startups
Staffing is a critical concern for ATV tour startups. ATV tour operations are usually staffed with young, energetic individuals who are experienced with ATVs and/or customer service.
When you hire your first employees, look for candidates who are committed to your operation and willing to go the extra mile to help you build the best possible ATV tourism experience in your market.
Business Plans 101 for ATV Tour Business Startups
Startup entrepreneurs slave over the creation of their business plans, investing countless hours in the details of their startup strategy. But your business plan won't be finished until you've included material about your industry.
Industry analyses are standard chapters in ATV tour company business plans and are often required by lenders or investors. Industry analyses are critical for contextualizing your startup within an industry setting.
Although it sounds complicated, most entrepreneurs can create an effective industry analysis section by simply steering clear of common industry analysis mistakes.
Evaluate Competitors
Long before you open an ATV tour business within your community, it's a good idea to determine what the competition looks like. Try our link below to generate a list of competitors near you. Simply enter your city, state and zip code to get a list of ATV tour businesses in your town.
Prior to opening your doors for business, be sure you fully understand the competitive landscape and where your new business will fit in.
Turning Competitors Into Collaborators
If you are seriously contemplating launching an ATV tour business, it's essential that you learn from folks who are already in business. It's very unlikely that the local competition will talk to you. It'd be crazy for them to teach you the business.
However, an entrepreneur who owns an ATV tour business on the other side of the country will be much more likely to talk with you, after they realize you reside far away from them and won't be stealing their local customers. In that case, the business owner may be more than happy to discuss the industry with you. If you are persistent, you can find a business mentor who is willing to help you out.
Where would you find an entrepreneur who is running an ATV tour business who is willing to advise you because you live in different cities?
Simply, try our helpful link below, type in a random city/state or zipcode, and start calling.
Gaining Access to ATV Tour Business Ownership
Some entrepreneurs buy existing ATV tour businesses, while others plunge headfirst into an ATV tour business startup. There are a lot of benefits of buying an ATV tour business.
In today's marketplace, buyers clearly have the upper hand, making it relatively easy to find an ATV tour business that meets your personal and professional objectives.
Don't Rule Out Franchising
The odds of achieving your primary goal of thriving in your new business greatly improve when you join the ranks of franchisees and benefit from the prior work of others and their lessons learned.
Before you consider starting an ATV tour business, it's worthwhile to investigate whether franchising might alleviate your startup process.
The link below gives you access to our franchise directory so you can see if there's a franchise opportunity for you. You might even find something that points you in a completely different direction.
More Startup Articles
These additional resources regarding starting a business may be of interest to you.
Share this article
---
Additional Resources for Entrepreneurs