Starting a Business
How to Start an Auto Mechanic School
We've collected some good advice that is written for aspiring entrepreneurs who plan on opening an auto mechanic school. Read this before you start!
Wondering how to start an auto mechanic school? We take you step-by-step from start to success.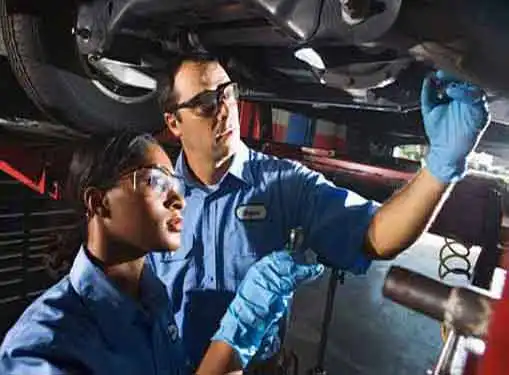 Entrepreneurial Opportunities in Auto Service Education
Auto mechanic schools and training programs are career schools designed to train students for a very specific career path. Although a diploma from an auto mechanic school isn't necessarily a requirement for employment as an auto service technician, competitive job markets and other factors are driving aspiring technicians to auto mechanic schools in record numbers.
Starting an auto mechanic school isn't something that should be taken lightly. Realistically, it may take several years to get your school off the ground and several more before you see a return on your efforts. But if you are an educational entrepreneur who is dedicated to training the next generation of auto service technicians, there are ample opportunities to launch new automotive career schools at locations throughout the nation.
Characteristics of Growing Auto Mechanic Schools
There are countless details that will need to be addressed between now and your first day of classes. Finding a space for your school, securing equipment for hands-on training, creating curriculum, hiring faculty . . . The to-do list for auto mechanic training entrepreneurs goes on and on. But growing auto mechanic schools share several characteristics, each of which can be an indication of your new auto mechanic school's long-term success.
Array of Educational Products. The best auto mechanic training schools and programs feature a wide array of educational opportunities designed to meet the needs of today's auto service industry. As your school grows, consider expanding your program offerings to include courses in auto body repair, auto detailing, diesel mechanics and small engine repair.
Robust Marketing. Bottom line profitability is all about filling classes, whether they're being offered online or in a traditional classroom setting. And in today's marketplace, you can't survive without an aggressive marketing strategy that raises your school's visibility with recent high school grads as well as adults considering a career change.
Accreditation. Accreditation is a review process that ensures member schools are meeting standards of excellence in educational quality and financial stability. At some point, your auto mechanic school will need to pursue accreditation with a reputable accrediting organization like the Accrediting Commission of Career Schools and Colleges (ACCSC).
Best Practices: Business Plans for Auto Mechanic Schools
A great business plan will lay a strong foundation for growth in your startup auto mechanic school.
Business plans address a wide range of issues, including startup financials. Not surprisingly, lenders immediately turn to the financial section and use the accuracy of your forecasts to gauge the value of other parts of the plan.
As a result, we strongly recommend educating yourself in business plan financial basics before finalizing your business plan's financial chapter.
Check Out the Competition
Well in advance of opening an auto mechanic school within your community, it's worthwhile to find out how you will fit in the competitive landscape. Try our link below to get a list of local competitors in your city. After following the link, enter your city, state and zip code to get a list of auto mechanic schools in your area.
Is the local market large enough to support another auto mechanic school? If not, you had better be sure that you are doing things much better than the competition.
Talk to People Who Are Already in the Business
If you are interested in starting an auto mechanic school, the next step is to learn as much as you can from somebody who is already in the business. Local competitors are not going to give you the time of day, mind you. What's in it for them?
However, an entrepreneur who owns an auto mechanic school in another town can be a great learning resource for you, given that you don't compete with them in their area. In fact, they are often very willing to share startup advice with you. In my experience, you may have to call ten business owners in order to find one who is willing to share his wisdom with you.
Where can you find somebody who runs an auto mechanic school on the other side of the country to talk to?
Easy. Find them using our link below and start calling until you are successful.
Auto Mechanic School Acquisitions: Financial Considerations
Startup auto mechanic schools carry a host of financial risks and concerns. Without an operational history, it's hard to predict how your startup will actually perform in the marketplace.
Financial risk management requires you to at least consider the possibility of setting your startup plans aside to explore acquisition opportunities. Established auto mechanic schools have reliable revenue streams and loyal customer bases – both of which will shape your company's financial landscape.
An acquired business also has documented assets and earnings - a big advantage with lenders and investors.
Consider Franchising
As an entrepreneur, your chances being a successful business owner are much greater if you go the franchising route instead of doing it all on your own.
If you are thinking about opening an auto mechanic school, you may want to investigate whether franchise opportunities in your space might be worth investigating.
The link below gives you access to our franchise directory so you can see if there's a franchise opportunity for you. You might even find something that points you in a completely different direction.
Related Articles on Starting a Company
These additional resources regarding starting a business may be of interest to you.
Coming Up With Good Business Ideas
Share this article
---
Additional Resources for Entrepreneurs