Ethics in Small Business
Marketing Ethics
Written by Clayton Reeves for Gaebler Ventures
Marketing has intrinsic conflicts of interest between buyers and sellers. We take a look at some marketing ethics issues that are inherent in the world of marketing.
Marketing is a realm where there is sometimes a conflict of interests between the firm and customer.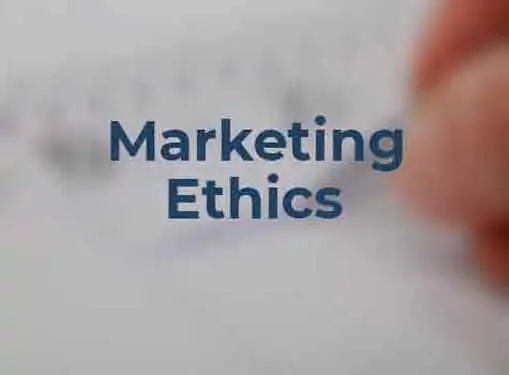 Although it is always in the best interest of the firm to make a sale, it is sometimes not a match with the interests of customers.
Cigarettes are a classic example of an inherent conflict of interest.
Initially, big tobacco made little effort to educate the customer to the addictive aspects of their product. This was not in their best interest, because it would have inhibited their ability to create a customer base.
Not every product is as addictive as nicotine, but there are certainly some more subtle conflicts of interest in the marketing of many products and services.
A couple things can be done about ethical challenges in marketing. First, the company must be proactive about deciding what practices they will readily accept as part of their marketing efforts.
This has to be a company wide effort from the beginning. There must be a conscience effort to create a culture that matches those practices.
Sometimes, certain managers will have conflicts between their personal ethical standards and those of the company. This creates moral tension that cannot easily be resolved. It is best to have in place the standards with which you will operate before you hire your managers. Not only does this protect your company from having a rogue manager, it also protects the manager from getting engaged in a company that doesn't match their personal beliefs.
A huge part of attracting, engaging and retaining a workforce revolves around congruent beliefs. Having a standard in place will help this process.
Next, while being proactive about the process there must also be regular updates scheduled to reflect changing marketing environments. This could be as simple as a committee or team that regularly researches changing public sentiment and marketing practices.
Recently, the green movement has started to become a huge part of being a socially responsible company. Had a company seen this coming, they could have produced practices in advance that would reflect their commitment to the environment. Then, using this advantage, the company could create good PR for their firm at a low cost. The trick is being able to foresee the movement of public opinion.
While abstract, these are a couple things that can help your firm understand marketing ethics and make sure your company is positioned where you want it to be.
As a small business, the owner has the opportunity to instill a company-wide culture without much effort. Once up and running, sometimes companies have a tendency to grow on their own. These efforts can pay big rewards if they are invested in near the beginning of the company's lifetime.
When he's not playing racquetball or studying for a class, Clayton Reeves enjoys writing articles about entrepreneurship. He is currently an MBA student at the University of Missouri with a concentration in Economics and Finance.
Share this article
---
Additional Resources for Entrepreneurs