Entrepreneur Guidance
Opening a Mobile Auto Service & Repair Business
If you are planning on starting a mobile auto service and repair business, the first step is defining your value proposition.
Thinking about opening a mobile auto service and repair business? We tell you what you need to know to get started.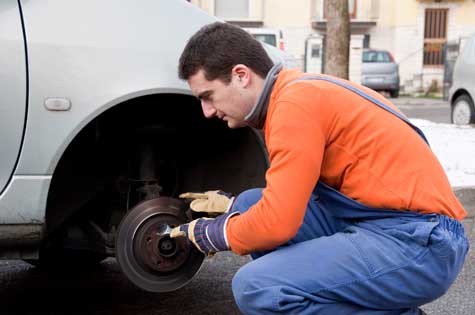 Benefits of Mobile Auto Repair
Auto service and repair businesses aren't new – they've been around ever since the day after Henry Ford started rolling Model T's off the production line. But entrepreneurs are taking the business to a whole new level with mobile auto service and repair outfits.
The idea of taking your auto business to your customers has several advantages. Right away, you can eliminate the overhead that goes into leasing or buying a commercial repair facility. Not having a commercial-grade auto repair shop might restrict your ability to perform significant overhauls or bodywork, but you'll find that you can perform most service and repair jobs either onsite or at a home-based repair facility.
The mobile nature of your business means that you will have the ability to target a wider geographic range of customers than you can with a fixed location repair shop. Since you're going to your customers' locations, your clientele can come from multiple towns, suburbs, or communities. In terms of geography, your only concern is to avoid spreading yourself so thin that you spend an unreasonable amount of time and resources traveling from one client to the next.
Office parks are popular targets for mobile service and repair businesses because they represent a high volume of potential customers with vehicles that are dormant for much of the workday. A carefully orchestrated flyer campaign in a handful of office parks can keep your business afloat for weeks or even months.
The startup costs for a mobile auto repair business are minimal when compared to the amount of overhead that goes into a first-rate auto shop. A basic set of tools, a heavy-duty truck or van, and a basic parts inventory is really all it takes to get your business off the ground. Along the way, you'll want to secure relationships with parts suppliers in every area your company does business, just in case you need a specific part that's not in your inventory.
Expansion opportunities for mobile service and repair companies aren't limited to increasing the size of your territory. If there's room for it in the market, you can expand your business to include mobile car washes, auto detailing, or other services.
Business Plans 101 for Mobile Auto Service & Repair Business Startups
Startup entrepreneurs slave over the creation of their business plans, investing countless hours in the details of their startup strategy. But your business plan won't be finished until you've included material about your industry.
The absence of a thorough industry analysis may incline lenders and/or other external stakeholders to take a negative view of your company. Industry analyses are critical for contextualizing your startup within an industry setting.
Although you'll need to provide the right information, you'll also need to be careful to avoid common industry analysis mistakes because the wrong tone and content here could negate all of the hard work you've invested in the rest of your business plan.
Don't Ignore Competitors
Long before you open a mobile auto service and repair business in your area, it's a smart move to determine how many competitors you have. Use the link below to find competitors in your area. After following the link, enter your city, state and zip code to get a list of mobile auto service and repair businesses in your area.
Gain a knowledge of how existing firms have positioned themselves in the marketplace, and then design your business in a way that sets you apart from the others.
Getting Advice from Experienced Entrepreneurs
If you are interested in starting a mobile auto service and repair business, you really ought to speak with somebody who is already in the business. If you think your local competitors will give you advice, you're being overoptimistic. It'd be crazy for them to teach you the business.
But, a person who owns a mobile auto service and repair business outside of your community may be willing to share their entrepreneurial wisdom with you, as long as they don't view you as a competitive threat. Many business owners are happy to give advice to new entrepreneurs In my experience, you may have to call ten business owners in order to find one who is willing to share his wisdom with you.
How would you find an entrepreneur who is running a mobile auto service and repair business in another community?
No problem! Just use the link below and try a random city/state or zipcode. Then start dialing for advice until you are successful.
Gaining Access to Mobile Auto Service & Repair Business Ownership
Some entrepreneurs buy existing mobile auto service and repair businesses, while others plunge headfirst into a mobile auto service and repair business startup. But despite the attraction startups have for many entrepreneurs, you should also consider the benefits of buying a mobile auto service and repair business.
The current economic climate is a buyer's market – if you have enough capital to start a mobile auto service and repair business, you should have no problem financing the purchase of a mobile auto service and repair business that has a solid earnings history and a workable business model.
Consider Franchising
Would you risk your startup investment on a coin toss? Probably not. But if you're launching a traditional startup, that's essentially what you're doing - gambling your future on a 50/50 shot at success.
To protect your investment, it's worth considering the possibility of starting a franchise. Leading franchisors offer the support and resources that are often lacking in startups. More importantly, the right mobile auto service and repair business franchise offers a turnkey system for turning your dreams into first-year profits.
The below link will take you to our auto repair franchise directory where you can explore mobile auto service and repair business franchise opportunities from the industry's leading franchisors.
More Advice for Startups
These additional resources regarding starting a business may be of interest to you.
Recurring Revenue Business Models


Have Friends Who Might Like This Article?

Share this on Twitter
Let them know on LinkedIn
Ready to Learn More? We Think You Might Like These Articles:
---
Additional Resources for Entrepreneurs