Entrepreneur Ideas
Opening a Steakhouse Restaurant
We've collected some good advice that is ideal for entrepreneurial folks who want to open a steakhouse restaurant. Read this advice before you open up shop.
Wondering how to start a steakhouse restaurant? We take you step-by-step from start to success.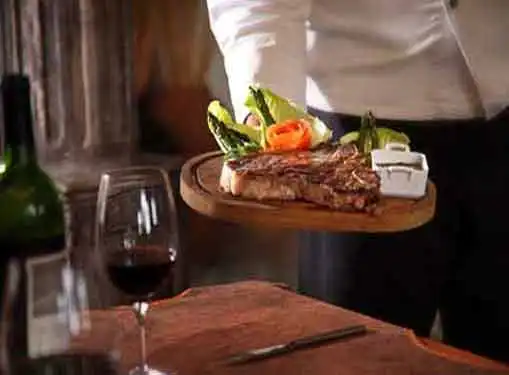 Finding a Place in the Crowded Steakhouse Market
Steakhouses have a long tradition in the restaurant industry -- and in the hearts of many American diners. In previous eras, steakhouses were primarily upscale, independent establishments that specialized on serving high quality hunks of meat to adults. Some of the older, independent steakhouses are still around, though the market has been confused by chain steakhouses offering mediocre meats to a family-oriented patron base.
Startup steakhouse entrepreneurs need to determine how their steakhouse will stand out in a crowded field. If there are currently no (or few) steakhouses in your geographic territory, you have more options. But for most startups, a family-friendly steakhouse isn't realistic simply because you won't be able to compete with the chains on price. Instead, a better business model may be to focus on creating an old world steakhouse experience that outperforms the chains on quality, ambience and diner experience.
Tips for Branding a Steakhouse Restaurant Startup
Naming and branding are serious concerns for steakhouse entrepreneurs. Your restaurant's name and brand are shortcuts consumers rely on to quickly size up your establishment. That means you'll probably need to include the word "steakhouse" or a derivative in your name and create a logo that conveys the features that make your steakhouse unique.
Avoid rushing the development of your brand and logo. Whether you like it or not, your brand will stick with your restaurant for years, so you have to get it right the first time. More importantly, a hastily created name or brand can create legal entanglements, especially if it encroaches on the name or brand of other steakhouses already in the marketplace.
Quality, Menu & Pricing Concerns for New Steakhouses
Startup steakhouses frequently attempt to differentiate by delivering a higher quality dining experience than is currently being offered by chain steakhouses like Outback, Longhorn, etc. However, in an effort to cut corners, many new steakhouses use menu design, creative pricing and other tactics to pass off medium quality meats as top-shelf steaks.
This strategy is a penny-wise, pound-foolish approach to business ownership. Although you can save a few bucks now, the result is that your customers will leave disappointed, feeling as though they could get the same dining experience for a lower price at a chain steakhouse.
If your brand promise is the delivery of an unparalleled steakhouse experience, everything you do should be geared toward exceeding your customers' expectations. Secure a vendor relationship with a first-quality meat provider, and give your patrons a meal they can brag about to their friends.
How to Write a Top Quality Steakhouse Restaurant Business Plan
A business plan is the skeletal framework for your steakhouse restaurant's mission, goals and strategic vision.
In contemporary business culture, business plans are also litmus tests used by external interests to assess real world viability and marketability.
Early in the process, it's worth your time to learn how to write the market analysis section of a business plan. While a robust market analysis can be a selling point for a steakhouse restaurant startup, weak market research is a sure giveaway for a business that hasn't invested adequate effort in planning.
Make a Plan for Geographic Expansion
This kind of business typically has a strong local footprint.
Because many steakhouse restaurants achieve growth by launching multiple sites and treating each location as a new, local business, we recommend that you build your steakhouse restaurant such that it can be replicated in other locations in the future.
Evaluate Competitors
Before you open a steakhouse restaurant in your town, it's essential to determine how strong the competition is. Try our link below to get a list of local competitors nearby. Simply enter your city, state and zip code to get a list of steakhouse restaurants in your town.
How are you going to successfully complete with existing firms? It's important that you never underestimate the competition.
Find Good Remote Business Advice
As part of your due diligence on opening a steakhouse restaurant, be sure to learn from folks who are already in business. It's very unlikely that the local competition will talk to you. What's in it for them?
But, a person who owns a steakhouse restaurant on the other side of the country will be much more likely to talk with you, given that you don't compete with them in their area. In that case, the business owner may be more than happy to discuss the industry with you. If you are persistent, you can find a business mentor who is willing to help you out.
So, what can you do to find a steakhouse restaurant manager in another city who you can speak with?
Simple. Let your fingers do the walking by using the link below.
Getting Started in Steakhouse Restaurant Ownership
There are two ways would-be entrepreneurs can gain entry to steakhouse restaurant ownership: A startup or a business purchase.
Startup steakhouse restaurants can be attractive because they allow the entrepreneur to have more control and greater influence. Yet startups are also more difficult to finance because their nature is inherently risky.
Acquired steakhouse restaurants are known quantities - and are less risky for lenders. On the whole, buying a business minimizes uncertainty as well as many of the objections lenders use to disqualify startup entrepreneurs from financing.
Is Franchising the Right Option?
Recognize that your chances of doing well in business immediately improve when you opt to franchise rather than going it alone.
If you are thinking about opening a steakhouse restaurant, you ought to assess whether franchise opportunities in your space might make sense for you.
The link below gives you access to our franchise directory so you can see if there's a franchise opportunity for you. You might even find something that points you in a completely different direction.
More Advice for Startups
These additional resources regarding starting a business may be of interest to you.
Buying vs. Starting a Business


Share this article
---
Additional Resources for Entrepreneurs