Starting a Business
Opening an Auto Body Shop Equipment Repair Business
This advice is written for those of you who are thinking about starting an auto body shop equipment repair business. Read this article before you open up shop.
Thinking about opening an auto body shop equipment repair business? We tell you what you need to know to get started.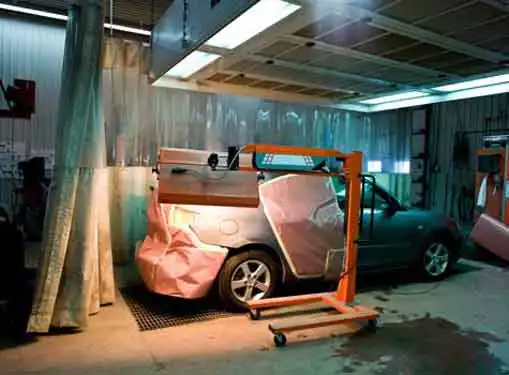 Industry Need for Body Shop Equipment Repair Companies
The sophistication of today's cars and trucks has made it more difficult for drivers to perform their own auto body repairs. That's good news for the auto body shop industry, but it's also good news for scores of business owners who make a living keeping body shops is good working order -- including body shop equipment repair specialists.
Industry insiders know that a majority of body shop projects require frame straightening and alignment. Frame machines are large and complex pieces of equipment that require periodic service and repair. Since a single day without a machine can cost a body shop thousands of dollars in lost business, body shops have a vested stake in getting the best repair technician they can find as soon as possible.
Auto body shop equipment repair professionals typically perform a number of services for their clients including around-the-clock repair, maintenance, parts sales and machine relocation. Although it's tempting to focus exclusively on repair, startup owners are advised to offer an array of services to position their companies as one-stop providers for all of their clients' frame machine and equipment needs.
Marketing Tips for Body Shop Equipment Repair Startups
An auto body equipment repair startup is atypical in the sense that it doesn't market services to the general public or even to the broader auto service community. Instead, your target market will be focused on the subsector of auto body shops within your geographic territory. Here's how to market to them . . .
Relationship Building. As a specialized B2B service provider, you need to create trust with prospective customers through relationship building and industry networking strategies. Rather than waiting for potential clients to contact you, take the initiative and reach out to body shops in your area, periodically checking in on them even if they are currently using a different repair provider.
CRM. CRM or Customer Relationship Management refers to a set of processes designed to inform and enhance your relationships with customers or prospective customers. Using a CRM software solution, you can systematize customer relations in your startup to make sure none of your clients slip through the cracks.
Word of Mouth Marketing. In the end, word of mouth advertising is the most effective form of promotion for your repair business. You'll still need to conduct a variety of other marketing and advertising techniques, but don't neglect taking the necessary steps to encourage word of mouth referrals from your customers.
Characteristics of a Good Auto Body Shop Equipment Repair Company Business Plan
Your auto body shop equipment repair company's business plan should be tailored to your business's unique traits and goals. However, the most effective business plans do address specific sound business plan elements:
Mission Statement – Your description of your auto body shop equipment repair business's reason for existing.
Goals & Objectives – A list of mile markers on your auto body shop equipment repair business's road to success.
Financial, Marketing & Action Plans – More detailed descriptions of how you will carry out your mission and achieve your auto body shop equipment repair business's goals.
Investigate Competitors
Long before you open an auto body shop equipment repair business in your town, it's worthwhile to see what the competition looks like. Use the link below to generate a list of competitors nearby. Just enter your city, state and zip code to get a list of auto body shop equipment repair businesses in your community.
Is the local market large enough to support another auto body shop equipment repair business? If not, you had better be sure that you are doing things much better than the competition.
Talk to People Who Are Already in the Business
If you are interested in starting an auto body shop equipment repair business, it's a wise move to talk to somebody who is already in the business. Local competitors are not going to give you the time of day, mind you. What's in it for them?
However, an entrepreneur who owns an auto body shop equipment repair business outside of your community may be willing to share their entrepreneurial wisdom with you, after they realize you reside far away from them and won't be stealing their local customers. In fact, they are often very willing to share startup advice with you. Our estimate is that you may have to contact many business owners to find one who is willing to share his wisdom with you.
Where can an aspiring entrepreneur like you find an auto body shop equipment repair business entrepreneur in a different locale who can assist you?
No problem! Just use the link below and try a random city/state or zipcode. Then start dialing for advice until you are successful.
Three Arguments for Buying an Auto Body Shop Equipment Repair Business
It's almost always preferable to buy an auto body shop equipment repair business than to pursue an auto body shop equipment repair business startup.
You'll want to conduct a comprehensive due diligence process, but here are three arguments why you should think about buying instead of a startup.
Initial Revenue. Startups struggle to bring in revenue right out of the gate while existing businesses usually have a steady stream of income.
Operational Efficiency. When you're shopping for an auto body shop equipment repair business, be sure to look for ones that have all of the necessary processes and systems to ensure seamless operations from your first day of ownership.
Capital Acquisition. Lenders, investors and other funding sources almost always prefer business purchases to startups.
Explore Franchising Options
Business ownership is risky. But when it comes to a SMB startup, risk levels increase astronomically.
To protect your investment, it's worth considering the possibility of starting a franchise. When you launch a franchise startup, you launch with marketing, training and other resources that put your company ahead in the game. Some of the most successful entrepreneurs rely exclusively on franchise business models.
The below link will take you to our auto repair franchise directory where you can explore auto body shop equipment repair business franchise opportunities from the industry's leading franchisors.
Related Articles on Starting a Company
These additional resources regarding starting a business may be of interest to you.
Buying vs. Starting a Business
Share this article
---
Additional Resources for Entrepreneurs