Opening a Business
Starting a Bar & Grill Restaurant
Launching a bar and grill restaurant is your ticket to owning a good, stable business if you do it right. Here are tips and advice that can make your business profitable, stable and built to last.
If you have a taste for entrepreneurship, opening a bar and grill restaurant can be a great gig.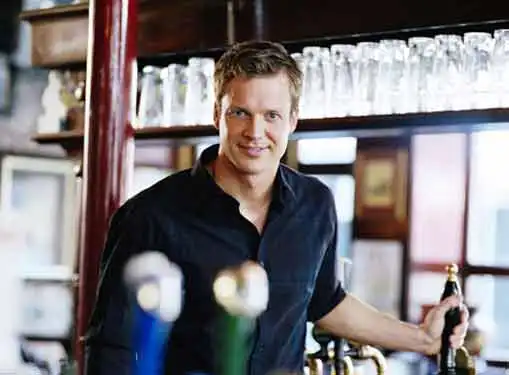 Bar & Grill Restaurant Features
Bar and grill restaurants are a magnet for aspiring entrepreneurs. But bar and grill business ventures also have an extremely high failure rate compared to other types of businesses. There are still plenty of startup profits to be made in the bar and grill industry - but to earn them, business owners need to be prepared for the realities of the marketplace.
Gone are the days when a bar and grill could prosper solely on the quality of its food. Today's bar and grill industry is dominated by business owners who are highly skilled in both the kitchen and the back office. If you don't have prior experience in restaurant management, it's important to work in the industry before investing in a bar and grill startup.
After you have found a high traffic location for your restaurant, the next step is to begin the process of securing a liquor license. A bar and grill without a liquor license is like an Italian restaurant without noodles - it just won't fly. Resist the temptation to open your restaurant before you have a liquor license. The initial influx of customers will be turned off by the experience and the negative publicity you create will far outweigh the benefit of early revenues.
Health code compliance is another issue that needs to considered early in the process. Chances are that you will be retrofitting a space that has already been used as a restaurant. That makes health code compliance a little easier, but don't take anything for granted until your establishment has been cleared by the local health department.
Many new bar and grill owners fail to invest enough time in menu creation. If you lack the ability to create a first-rate menu yourself, solicit assistance from a culinary arts professional with commercial kitchen experience. Your menu items must create a one-of-a-kind dining experience that fits within your business model's pricing and operational parameters.
Last but certainly not least, you will need to invest significant resources in marketing campaigns before you open your doors for business. The idea is to create buzz about your business and to bring large crowds into your establishment as soon as possible. Discount coupons are useful startup marketing devices, but they may require enough reserve capital to absorb operating losses during the first few months of operation.
We have hundreds of articles on marketing your business. Check out our marketing section for great ideas on how to market you bar and grill!
Best Practices for Writing a Bar & Grill Restaurant Business Plan
Many new bar and grill restaurant owners feel unprepared for the challenge of writing a business plan.
But even though you have primary responsibility for drafting a business plan for your bar and grill restaurant, you aren't entirely alone. These days, there are tons of great resources and solutions available to support the business plan writing process.
For more information, take a look at our Business Plan Help section.
Locate The Business Near Loyal Customers
Because your bar and grill restaurant will cater in large part to local customers, you want to choose a business location that is nearest to your best customer base. Understanding how to choose the right location for business is critically important.
Investigate Competitors
Long before you open a bar and grill restaurant in your area, it's a smart move to see how strong the competition is. We've provided the link below to help you get a list of local competitors nearby. Just enter your city, state and zip code to get a list of bar and grill restaurants in your community.
Is the established competition doing a good job? It's important to understand their strengths and weaknesses and think through how you'll stake up against those established businesses.
Learn from Others Who Are Already In This Space
If you are seriously contemplating launching a bar and grill restaurant, you really ought to learn as much as you can from somebody who is already in the business. If you think your local competitors will give you advice, you're being overoptimistic. It'd be crazy for them to teach you the business.
On the other hand, an individual who has a bar and grill restaurant in a location that is not competitive to you can be a great learning resource for you, after they realize you reside far away from them and won't be stealing their local customers. In fact, they are often very willing to share startup advice with you. If you are persistent, you can find a business mentor who is willing to help you out.
Where do you find a bar and grill restaurant entrepreneur outside of your area who is willing to talk?
Here's one way to do it. Just use our link below, find somebody and call them.
Benefits & Drawbacks of a Bar & Grill Restaurant Acquisition
An acquisition can be a great way to enter bar and grill restaurant ownership. But it's important to evaluate the benefits and drawbacks of buying a business before you decide on either an acquisition or startup approach.
BENEFITS: Existing companies have proven business models and a history of profitability. They should also have some degree of brand recognition and an established customer base.
CONs: On the downside, bar and grill restaurant acquisitions can be difficult to adapt to your unique business philosophy so it's important to make sure the business is capable of achieving your ownership goals before you initiate the buying process.
Consider Buying a Franchise
Your odds of avoiding failure in business are higher when you franchise rather than going it alone.
As part of your process in starting a bar and grill restaurant, you may want to investigate whether franchising might help you avoid common entrepreneurial mistakes.
The link below gives you access to our franchise directory so you can see if there's a franchise opportunity for you. You might even find something that points you in a completely different direction.
More Startup Articles
These additional resources regarding starting a business may be of interest to you.
Share this article
---
Additional Resources for Entrepreneurs