Becoming an Entrepreneur
Starting a Crime & Trauma Scene Cleaning Services Business
These tips are written for entrepreneurial folks who want to open a crime and trauma scene cleaning services business. Read these tips before you begin your venture.
Thinking about opening a crime and trauma scene cleaning services business? We tell you what you need to know to get started.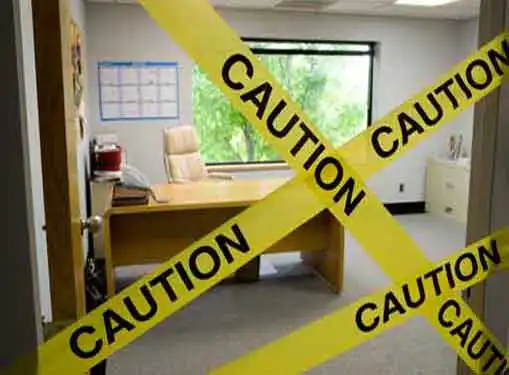 Framework for Crime & Trauma Scene Cleanup Entrepreneurism
Whether in a dramatization or in real-life, we've all seen what crime and trauma scenes look like. "Messy" doesn't begin to describe the carnage that can be left in the wake of a crime or traumatic event. And when everything is said and done, the property owner is left with the uncomfortable job of restoring the space to its original condition.
Crime & trauma scene cleanup businesses (also known as CTS Decon companies) take care of the cleanup requirements for property owners. Although CTS Decon is a technically a maintenance activity, entrepreneurs in this field are trained specialists who command high hourly rates, often in excess of $500 per hour.
In exchange for their fee, CTS Decon businesses are expected to be capable of working with an exceptionally wide range of surfaces and substances. Barring a nuclear contamination, there aren't any jobs that should fall outside of your startup's level of expertise.
Considerations for CTS Decon Startups
Crime and trauma scene cleaning companies are unique businesses, to say the least. As a hopeful CTS Decon entrepreneur, there are several issues you will need to consider before you take the plunge into a full-blown, crime scene cleaning business launch.
Worker Safety. First and foremost, you need to be concerned about the safety of your workers. All workers must be trained and equipped to perform their jobs in a safe an effective manner. Additionally, you'll need to make sure your work routines comply with OSHA requirements for the handling of biohazardous materials.
Biohazard Disposal. What do you plan on doing with the materials you collect from cleanup sites? If you're planning to toss them into a dumpster, you may be in for a rude awakening. Since you're dealing with biohazards, you'll need permits to transport and dispose of biohazardous waste.
Worksite Sensitivity. Keep in mind that although your team may approach a crime scene from a professional standpoint, there is a good chance you will be surrounded by family members who have just experienced a devastating event. Train your workers to be sensitive to the needs of family members and to avoid making jokes at worksites. When in doubt, your workers should treat crime scenes and family members as they would want to be treated if the event had happened to someone close to them.
For training resources, we suggest startup owners get in touch with the American Bio-Recovery Association and other industry trade organizations.
How to Write a Simple Crime & Trauma Scene Cleaning Services Company Business Plan
Haven't created a business plan for your crime and trauma scene cleaning services business yet? You could be in big trouble.
At Gaebler, we advise new business owners to keep your business plan simple. Length and polish aren't as important as consistency, accuracy and thoroughness.
Instead of investing countless hours in a lengthy business plan, put pen to paper now and document the essentials with the understanding that your plan will be revised as you move forward.
Check Out the Competition
Before you open a crime and trauma scene cleaning services business in your area, it's a good idea to see how strong the competition is. Try our link below to get a list of local competitors near you. After following the link, enter your city, state and zip code to get a list of crime and trauma scene cleaning services businesses in your area.
Before you open up shop, make sure you know what you will offer to your customers that provides a significant advantage over your competition's offering.
Learning More About the Industry
As part of your due diligence on opening a crime and trauma scene cleaning services business, it's a wise move to have a conversation with someone who is in the business. If you think owners of nearby crime and trauma scene cleaning services businesses will give you advice, think again. Why would they want to educate a future competitor?
However, a fellow entrepreneur who has started a crime and trauma scene cleaning services business in a location that is not competitive to you may be more than happy to give you a few tips, given that you don't compete with them in their area. Indeed, many experienced entrepreneurs enjoy offering advice to startup entrepreneurs. If you are persistent, you can find a business mentor who is willing to help you out.
How does one quickly and easily locate an entrepreneur who is running a crime and trauma scene cleaning services business on the other side of the country to talk to?
No problem! Just use the link below and try a random city/state or zipcode. Then start dialing for advice until you are successful.
Why You Should Buy (Instead of Start) a Crime & Trauma Scene Cleaning Services Business
Spurred on by dreams of a future big money buyout and an undeniable entrepreneurial impulse, many would-be crime and trauma scene cleaning services business owners are driven to pursue startup strategies.
Yet a healthier and safer strategy may be to purchase an existing crime and trauma scene cleaning services business.
Existing crime and trauma scene cleaning services businesses are proven operations with dependable revenue streams. As an added bonus, you'll also gain the ability to headaches and hassles of startup trial-and-error.
Is Franchising the Right Option?
Your odds of avoiding failure in business increase if you decide to franchise and leverage their successful brand and track record.
Before you consider starting a crime and trauma scene cleaning services business, you would be wise to determine whether franchising might make your life much easier.
The link below gives you access to our franchise directory so you can see if there's a franchise opportunity for you. You might even find something that points you in a completely different direction.
Related Articles on Starting a Company
These additional resources regarding starting a business may be of interest to you.
Characteristics of Successful Entrepreneurs
Share this article
---
Additional Resources for Entrepreneurs