Good Startup Businesses
Starting a Japanese Restaurant
This advice is perfect for entrepreneurial folks who are thinking about starting a Japanese restaurant. Read this advice before you begin your venture.
Wondering how to start a Japanese restaurant? We take you step-by-step from start to success.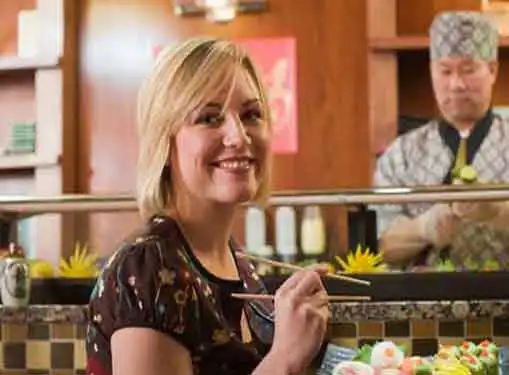 Framework of a Japanese Restaurant Launch
Japanese cuisine is extremely popular throughout the U.S., primarily in suburban and urban metros. But diners who frequently patronize Japanese restaurants for tempura, sushi or hibachi expect a great dining experience that leverages quality cuisine and a Japanese-themed ambience.
The Japanese restaurant market is populated with large franchises (e.g. Benihana) as well as a plethora of independent establishments. Although native Japanese chefs have a clear startup advantage, it's possible for non-Japanese entrepreneurs to launch a successful restaurant, provided they tap into the culinary expertise of capable Japanese chefs to create a dining experience that is true to authentic Japanese cuisine.
Fresh Ingredients: The Backbone of Japanese Cuisine
Fresh ingredients are important for any restaurant. But the need for fresh ingredients is especially acute in a Japanese restaurant due to the fact that Japanese cuisine relies heavily on fresh, uncooked fish for great-tasting sushi and sashimi. In fact, many sushi chefs will only work with ingredients flown in from Japan.
A single instance of spoiled sushi can have a dramatic impact on your startup, particularly these days when diners won't hesitate to broadcast negative experiences on social media sites like Facebook or Twitter.
Right out of the gate, you'll need to establish strong supplier relationships for fish, produce and other ingredient categories. Before you settle on a specific vendor, evaluate several suppliers and check their references with other restaurants in your area. In some instances, it may be wise to create redundant supplier relationships to avoid supply shortages or unexpected interruptions in your supply chain.
Critical Hires for a New Japanese Restaurant
In addition to securing proper licensing and health certification, hiring will be an inevitable requirement for your Japanese restaurant startup. Given the unique nature of Japanese cuisine, there are a few specific hires your startup probably won't be able to live without.
A qualified chef with experience in Japanese cuisine is a must for a successful Japanese restaurant. Unless you plan to serve nontraditional or fusion cuisine, a great chef without Japanese cuisine experience will miss many of the details that diners associate with traditional Japanese dining.
Also, you may want to consider hiring a restaurant manager with one or more successful Japanese restaurant launches under his belt. Although a proven manager isn't necessarily essential, hiring an experienced Japanese restaurant manager can mitigate much of the uncertainty associated with a typical launch process.
Best Japanese Restaurant Business Plans
As a startup small business owner, you need to have a business plan you can rely on for both external and internal purposes.
Although there are a lot of tasks screaming for your attention, cutting corners on your business plan can be a precursor to disaster. Even though it takes time to write a high quality plan, there are a lot of arguments why your company can't succeed without an effective business plan.
As a rule, don't exit the business planning process until you are completely satisfied with the scope and content of your business plan.
Location Selection
For the most part, Japanese restaurants target local customers. Your startup plan should start with gathering intelligence about the local community Is the area changing? Does the community have the right demographics to support your new business? Great demographic data can be obtained from the Census Bureau, so that is a good place to start any site location research project.
Review the Competition
Long before you open a Japanese restaurant within your community, it's a good idea to find out how many competitors you have. We've provided the link below to help you generate a list of competitors in your area. Complete the form by entering your city, state and zip code to get a list of Japanese restaurants that are close by.
Gain a knowledge of how existing firms have positioned themselves in the marketplace, and then design your business in a way that sets you apart from the others.
Getting Advice from Experienced Entrepreneurs
If you want to open a Japanese restaurant the next step is to talk to somebody who is already in the business. Local competitors are not going to give you the time of day, mind you. Why would they want to educate a future competitor?
On the other hand, an individual who has a Japanese restaurant in a different city can be a great learning resource for you, once they realize that you are not going to directly compete with them in their community. Many business owners are happy to give advice to new entrepreneurs In my experience, you may have to call ten business owners in order to find one who is willing to share his wisdom with you.
Where can an aspiring entrepreneur like you find a Japanese restaurant owner who is willing to advise you because you live in different cities?
Simply, try our helpful link below, type in a random city/state or zipcode, and start calling.
Business Brokerage for Japanese Restaurant Entrepreneurs
Sooner or later, every entrepreneur confronts the choice to start a business or buy an established company. In most cases, there are compelling financial and practical reasons buying an existing Japanese restaurant.
A qualified business brokers can provide a range of services designed to ease your transition into business ownership.
The best business brokers will ensure that you get the right business for the right price, and will help you avoid common Japanese restaurant acquisition mistakes.
Don't Rule Out Franchising
Even with planning and preparation, the failure rate of startup businesses is very high. One of the ways to mitigate the risk of a startup failure is to buy a Japanese restaurant franchise.
To learn more about franchising, click on the link below to visit the Gaebler asian restaurant franchise directory.
Franchise terms vary, so you will need to evaluate franchise fees, initial buy-in, contract terms and training opportunities on a case-by-case basis.
Related Articles on Starting a Company
These additional resources regarding starting a business may be of interest to you.
Share this article
---
Additional Resources for Entrepreneurs