How Do I Start a Business
Starting a Parasailing Business
This advice is perfect for entrepreneurial folks who plan on opening a parasailing business. Read this article before you start!
Thinking about opening a parasailing business? We tell you what you need to know to get started.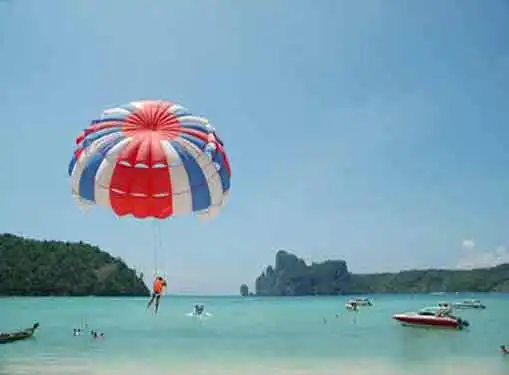 There are a few important things you'll need to address before you launch a new parasailing company.
Parasailing Business Fundamentals
For the right entrepreneurs, parasailing can be a fun and exciting entryway into the world of small business ownership. Each year, thousands of Americans travel to beaches and resorts with the intention of participating in a variety of water sports. Over the past several decades, parasailing has steadily gained popularity and is now a major player in the water sports entertainment industry.
First and foremost, parasailing startups need a location on the water. Although you don't need a lot of frontage, dock access and a beach-based booth or storefront are essential. In some areas, commercial water access may be subject to municipal regulation, so you'll need to research the requirements in your jurisdiction before plunking down cash on a powerboat and commercial parasailing equipment.
Tips for Getting Your Parasailing Operation Off the Ground
Generally speaking, parasailing businesses aren't complex operations. Most begin with a single boat (equipped with a parasailing platform) and parasailing unit. However, there are a handful of elements that need to be addressed as you prepare to launch your startup.
Safety. Safety has to be the number one priority in your parasailing startup. No sale is worth jeopardizing the lives of your customers. Organizations like the Professional Association of Parasail Operators (PAPO) are dedicated to informing their members about the latest safety procedures and business practices.
Insurance. Proper liability insurance is a must-have feature for a parasailing startup. Unfortunately, the number of insurance providers who are willing to offer coverage to parasail operations is rapidly shrinking, so plan on investing time and effort to find a reputable insurance partner.
Marketing. The marketing requirements for parasailing businesses are specific to the travel and tourism industry. If you don't have firsthand experience in travel marketing, we recommend you consider hiring a professional marketing firm that understands the nuances of marketing tourism activities to a geographically diverse customer base.
How to Write a Top Quality Parasailing Company Business Plan
If it includes hard numbers, a parasailing company business plan can become the catalyst for an executable business strategy.
In contemporary business culture, business plans are also litmus tests used by external interests to assess real world viability and marketability.
Early in the process, it's worth your time to learn how to write the market analysis section of a business plan. As you prepare the market analysis section, be careful to rely on substantiated market research rather than your hopes for your parasailing business.
Don't Ignore the Competition
Well in advance of opening a parasailing business in your town, it's a smart move to see how you will fit in the competitive landscape. Use the link below to get a list of local competitors in your city. Simply enter your city, state and zip code to get a list of parasailing businesses in your town.
Is the local market large enough to support another parasailing business? If not, you had better be sure that you are doing things much better than the competition.
Talk to People Who Are Already in the Business
If you want to open a parasailing business be sure to have a conversation with someone who is in the business. Local competitors are not going to give you the time of day, mind you. What's in it for them?
But, a person who owns a parasailing business on the other side of the country will be much more likely to talk with you, provided that you won't be directly competing with them. In fact, they are often very willing to share startup advice with you. It can take a while to find an entrepreneur who is willing to talk, but it's well worth the effort.
So, what can you do to find a parasailing business owner in a different locale who can assist you?
Easy. Find them using our link below and start calling until you are successful.
Entry Options for Parasailing Businesses
Would-be parasailing business business owners can either launch a new business or acquire an existing operation.
We understand why a startup may sound appealing. A new parasailing business will definitely be more reflective of your personal business philosophy. Yet startups are also more difficult to finance because their nature is inherently risky.
On the other hand, a parasailing business purchase is more attractive to lenders and investors. Buying a business means that you'll have access to a documented financial history, an established business model and other factors that are unknowns in a startup – and that makes the ownership opportunity less of a risk to both you and your parasailing business's key stakeholders.
Explore Franchising Options
You should know that your odds of growing your business immediately improve if you go the franchising route instead of doing it all on your own.
If your goal is to start a parasailing business, you would be wise to investigate whether buying a franchise could be worth investigating.
The link below gives you access to our franchise directory so you can see if there's a franchise opportunity for you. You might even find something that points you in a completely different direction.
More Startup Articles
These additional resources regarding starting a business may be of interest to you.
Share this article
---
Additional Resources for Entrepreneurs