Entrepreneur Ideas
How to Start a Skydivers Business
Launching a skydivers business is your ticket to owning a good, stable business if you have the creativity and tenacity necessary to be a successful entrepreneur. We provide nuts-and-bolts information on the startup process.
Thinking about opening a skydivers business? We tell you what you need to know to get started.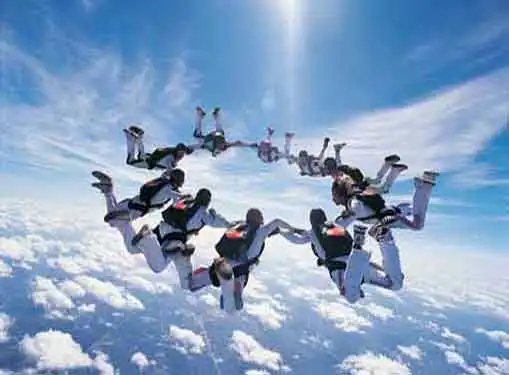 Skydiving Startup Requirements
Skydiving (or parachuting) is a recreational activity as well as a vocational skill for individuals in highly specialized careers. Skydiving schools offer newbies a safe introduction to the sport and ongoing training or jump opportunities for individuals who have decided to advance beyond the beginner level.
Although entrepreneurs interested in launching a skydiving school come from a variety of backgrounds, successful startup owners almost always possess significant skydiving experience, either as an enthusiast or as a jump professional (e.g. military). From your customers' standpoint, your skydiving experience is critical -- in their eyes, it's the only thing standing between them and the ground.
The capital requirements for a skydiving business are substantial: chutes, safety equipment, harnesses (solo & tandem) and access to a plane(s) are all obvious prerequisites. However, your instructors should also actively participate in and be rated by the U.S. Parachute Association, a trade organization that supports the sport of skydiving.
Expansion Opportunities for Skydiver Businesses
Growth is a mandate for successful small businesses. As a skydiving entrepreneur, it's important to target growth strategies in your initial business plan. Although circumstances vary from one entrepreneur to the next, there are several potential areas your school can target for expansion.
Indoor Skydiving. Indoor skydiving facilities give your school the ability to conduct training and activities in a safe environment that is completely independent of outside weather conditions. The downside? Cost. Construction of an indoor wind tunnel is expensive, possibly even cost-prohibitive for startup entrepreneurs. Budget carefully if you plan to offer expanded training activities indoors.
Military Business Training. The increased use of private para-military personnel has created a market for parachute schools capable of training private security personnel in HALO (High Altitude/Low Opening), HAHO (High Altitude/High Opening) and other skydiving techniques. Tap into this market segment and you have the potential to generate a significant revenue stream from corporate clientele.
Auxiliary Services. Ambitious skydiving entrepreneurs routinely create auxiliary revenue streams. Everything from the sale of parachuting equipment to on-site cafes or restaurants hold possibility as supplemental profit centers, depending on the needs and buying habits of your customer base.
Best Practices for Writing a Skydivers Company Business Plan
Many new skydivers business owners feel unprepared for the challenge of writing a business plan.
Fortunately, you don't have to tackle your skydivers company's business plan by yourself. There are plenty of useful solution designed to assist skydivers business entrepreneurs in business plan writing.
Our Business Plan Help section discusses some of the business plan resources other entrepreneurs have found useful.
Consider the Competition
Before you open a skydivers business within your community, it's a smart move to see how strong the competition is. Try our link below to generate a list of competitors in your area. After following the link, enter your city, state and zip code to get a list of skydivers businesses in your area.
How are you going to successfully complete with existing firms? It's important that you never underestimate the competition.
Find Good Remote Business Advice
After you've evaluated your local competitors, be sure to have a conversation with someone who is in the business. Local competitors are not going to give you the time of day, mind you. The last thing they want to do is help you to be a better competitor.
However, an entrepreneur who owns a skydivers business on the other side of the country may be more than happy to give you a few tips, as long as they don't view you as a competitive threat. In that case, the business owner may be more than happy to discuss the industry with you. In my experience, you may have to call ten business owners in order to find one who is willing to share his wisdom with you.
Where can you find a skydivers business founder on the other side of the country to talk to?
Simple. Let your fingers do the walking by using the link below.
Benefits & Drawbacks of a Skydivers Business Acquisition
Although there are significant benefits to buying a skydivers business (rather than launching a startup), it's important to weigh the pros and cons before you commit to a purchase scenario.
PROs: Existing companies have proven business models and a history of profitability. They should also have some degree of brand recognition and an established customer base.
CONs: On the downside, skydivers business acquisitions can be difficult to adapt to your unique business philosophy so it's important to make sure the business is capable of achieving your ownership goals before you initiate the buying process.
Explore Franchising Options
Tapping into a franchise opportunity ensures that you get access to great ideas that have been tested and proven over time.
If you planning on starting a skydivers business, you may want to investigate whether buying a franchise could alleviate your startup process.
The link below gives you access to our franchise directory so you can see if there's a franchise opportunity for you. You might even find something that points you in a completely different direction.
More Startup Articles
These additional resources regarding starting a business may be of interest to you.
Share this article
---
Additional Resources for Entrepreneurs