Start a Business
How to Start a Wine & Distilled Beverages Retail Business
These tips are ideal for those of you who are thinking about starting a wine and distilled beverages retail business. Read these tips before you start!
Thinking about opening a wine and distilled beverages retail business? We tell you what you need to know to get started.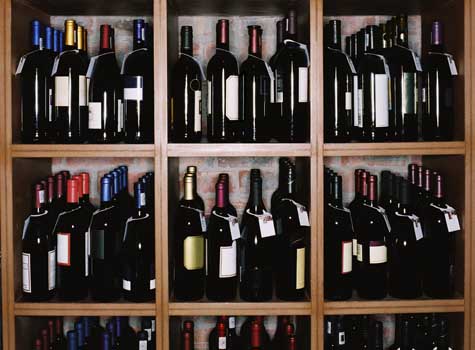 Key Selling Points for Wine & Distilled Alcohol Retailers
Wine and alcohol sales are a growing segment of the retail marketplace. Although it is heavily regulated on a state-by-state basis, the sale of wine and distilled beverages has seen a resurgence in recent years as millions of Americans have started to explore wine as an alternative to beer and other beverages. According to the Wine Institute, 2010 wine sales saw a 10% increase over the previous year's figures.
There are several potentially profitable business models for wine and distilled beverage startup retailers. Some wine and alcohol retailers opt for a discount approach; others choose to leverage selection rather than price, giving customers access to a range of hard-to-find labels and products.
The business model you choose for your wine and distilled beverage startup will be a factor of the marketplace and your unique business circumstances. If there is a glut of discount wine and alcohol sellers in your area, a specialty approach will be the most likely path to success. Conversely, if your area is awash in specialty wine shops, consider launching a discount retail outlet to offer consumers price alternatives.
Product Selection Guide for Wine & Hard Liquor Startups
In states known for wine production (specifically California, Washington and New York), wine retailers must deftly strike an inventory management balance between stocking popular national labels and products from local wine producers. In these areas, pressures from local producers and consumers themselves can distort retailers' perspectives, causing them to make poor inventory decisions.
The problem is that regional wines are almost always more expensive than national varieties. With wine and distilled liquor consumers becoming more cost conscious than ever, it's difficult to stock regional labels at a competitive price. If your startup is located in a wine producing region, it's important to stock a certain amount of regional inventory -- but in a manner that doesn't jeopardize your pricing structure or business model.
Staffing a New Wine and Distilled Beverage Retail Store
The retail wine and distilled beverage industry is a complex marketplace, full of informed consumers. As a result, staffing a startup isn't as simple as hiring a few people who know how to work a cash register because your customers will expect and demand sales staff to be capable of offering insightful advice about your products.
When hiring staff for your startup, it's essential that recruits have at least some knowledge about wine and distilled alcohol. Vendors typically train sales personnel about their products, but you'll be much further ahead if your team has a basic understanding of wine and distilled beverages right out of the gate.
Best Practices for Writing a Wine & Distilled Beverages Retail Company Business Plan
Many new wine and distilled beverages retail business owners feel unprepared for the challenge of writing a business plan.
Fortunately, you don't have to tackle your wine and distilled beverages retail company's business plan by yourself. There are plenty of useful solution designed to assist wine and distilled beverages retail business entrepreneurs in business plan writing.
For more information, take a look at our Business Plan Help section.
Evaluate Competitors
Prior to launching a wine and distilled beverages retail business within your community, it's a smart move to see what the competition looks like. Use the link below to generate a list of competitors near you. Simply enter your city, state and zip code to get a list of wine and distilled beverages retail businesses in your town.
Is the established competition doing a good job? It's important to understand their strengths and weaknesses and think through how you'll stake up against those established businesses.
Learn from Others Who Are Already In This Space
Once you've finished assessing the competion, it's essential that you talk to somebody who is already in the business. If you think your local competitors will give you advice, you're being overoptimistic. What's in it for them?
On the other hand, an individual who has a wine and distilled beverages retail business on the other side of the country may be willing to share their entrepreneurial wisdom with you, as long as they don't view you as a competitive threat. In fact, they are often very willing to share startup advice with you. Our estimate is that you may have to contact many business owners to find one who is willing to share his wisdom with you.
How does one quickly and easily locate a wine and distilled beverages retail business owner who is willing to talk to you but doesn't live nearby?
No problem! Just use the link below and try a random city/state or zipcode. Then start dialing for advice until you are successful.
Pros & Cons of Buying a Wine & Distilled Beverages Retail Business
An acquisition can be a great way to enter wine and distilled beverages retail business ownership. But it's important to evaluate the benefits and drawbacks of buying a business before you decide on either an acquisition or startup approach.
BENEFITS: Existing companies have proven business models and a history of profitability. They should also have some degree of brand recognition and an established customer base.
DRAWBACKS: However, purchased companies can also come with pre-existing challenges and/or liabilities. Ultimately, it may be more difficult to tailor a purchased business to your ownership style.
Explore Franchising Options
We work with a lot of startup entrepreneurs and if there's one thing we know, it's that starting a small business isn't getting any easier. The initial enthusiasm startup business owners feel is quickly dampened by the practical realities of launching a new company in a competitive marketplace.
To stack the odds in your favor, consider tapping into one of the many wine and distilled beverages retail business startup opportunities offered by leading brands and franchisors. While traditional startup owners waste time establishing supply chains and marketing campaigns, startup franchise owners invest their time in improving sales, service and staff.
The link below will take you to Gaebler's wine franchise directory where you can start exploring prospective franchisors for your startup.
Entrepreneur Interviews
These interviews should be of interest to you.
Other Useful Articles for Startup Entrepreneurs
These additional resources regarding starting a business may be of interest to you.
Have Friends Who Might Like This Article?

Share this on Twitter
Let them know on LinkedIn
Ready to Learn More? We Think You Might Like These Articles:
---
Additional Resources for Entrepreneurs