How Do I Start a Business
Opening a Paramedics Business
We've collected some good advice that is written for those who plan on opening a paramedics business. This is a must-read before you begin your venture.
Thinking about opening a paramedics business? We tell you what you need to know to get started.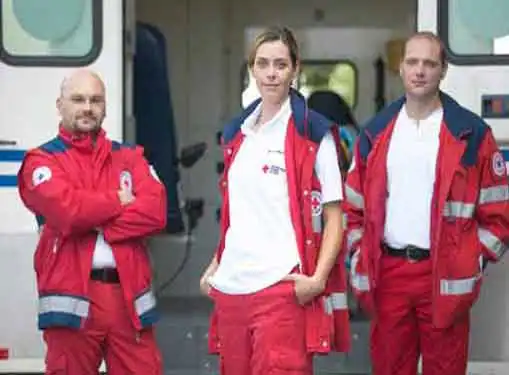 Breaking Into the Paramedic Industry
Healthcare in the U.S. is a $2.5 trillion industry -- more than 17% of the nation's total GDP. The sheer size of the healthcare market continues to attract both nonprofit and for-profit providers in a range of fields and specializations, including paramedic services.
As a prospective paramedic entrepreneur, you need to realize that the road from a business plan to a prosperous paramedics operation won't be easy. Paramedic startups are costly enterprises and opportunities for new providers may be limited, especially in areas that are saturated with emergency response entrepreneurs.
Nonetheless, for the right entrepreneur in the right situation, a paramedics startup can be a vehicle to simultaneously serve your community and earn a handsome income. The key is to exhaustively research your target market to verify that the assumptions you have made in your business plan are realistic and accurate.
Hallmarks of Successful Paramedic Providers
From the beginning, it's important to frame your startup (both internally and externally) as an organization that is designed to serve the local community. Even though you will profit from its success, your company will regularly be engaged in the act of saving lives. Area residents are counting on you to deliver first-rate medical services -- and that means it's critical to integrate several hallmarks throughout your organization.
High Quality Care. Patient care should be a driving force in your operation. Inevitably, you will be faced with decisions that look good on your company's financial statement, but jeopardize your ability to provide the best possible care to your patients. If you aren't willing to put patient care above padding the bottom line, a paramedic business isn't the right startup for you.
Great Customer Service. In a sense, patients are your customers. Consequently, customer service should be viewed as a core competency. In addition to making sure your staff is fully licensed and certified, you will need to actively participate in organizations like the International Association of EMTs & Paramedics (IAEP) and the American Ambulance Association (AAA) to access training opportunities and stay on top of best practices.
Dependable Performance. Performance monitoring is an important part of owning and operating a paramedic business. Factors like response times and call outcomes should be scrutinized and evaluated with an eye toward constant improvement.
Solid Partnerships. Your paramedics business has little chance of succeeding without the creation of key partnerships with local healthcare providers. Hospitals, medical centers, fire departments, community organizations and other stakeholders should all be targeted in your companies networking and outreach agenda.
Tips for Writing a Paramedics Company Business Plan
As a startup entrepreneur, you're learning that small business ownership can be a lonely career path. That's especially true when it comes to writing a business plan – the seminal document that will shape the direction of your new paramedics business.
Fortunately, you don't have to tackle your paramedics company's business plan by yourself. There are plenty of useful solution designed to assist paramedics business entrepreneurs in business plan writing.
If you're feeling overwhelmed, take a look at Gaebler's Business Plan Help section for a list of business plan writing resources.
Investigate the Competition
Prior to opening a paramedics business within your community, it's a smart move to determine what the competition looks like. Try our link below to generate a list of competitors in your area. After clicking on the link, type in your city, state and zip code to get a list of paramedics businesses near you.
Prior to opening your doors for business, be sure you fully understand the competitive landscape and where your new business will fit in.
Turning Competitors Into Collaborators
After you've evaluated your local competitors, be sure to speak with somebody who is already in the business. If you think your local competitors will give you advice, you're being overoptimistic. Why would they want to educate a future competitor?
Thankfully, an owner of a a paramedics business in another town may be willing to share their entrepreneurial wisdom with you, once they realize that you are not going to directly compete with them in their community. Indeed, many experienced entrepreneurs enjoy offering advice to startup entrepreneurs. Our estimate is that you may have to contact many business owners to find one who is willing to share his wisdom with you.
How does one quickly and easily locate an owner of a paramedics business on the other side of the country to talk to?
It's easy. Here's a link you can use to find a mentor outside of your area.
Benefits & Drawbacks of a Paramedics Business Acquisition
An acquisition can be a great way to enter paramedics business ownership. But it's important to evaluate the benefits and drawbacks of buying a business before you decide on either an acquisition or startup approach.
PROs: A good paramedics business will deliver revenue and ROI from day one. Even more, the right paramedics business acquisition can place you in a market leadership position from your first days as a business owner.
DRAWBACKS: Acquired paramedics businesses sometimes have entrenched processes and systems that run counter to your business objectives. If an acquisition target appears unmalleable, move on to another prospect.
Don't Forget About Franchising As an Option
The odds of growing your business increase when you choose to franchise and benefit from the prior work of others and their lessons learned.
Before you get too far along in your plan to open a paramedics business, you would be wise to check out whether buying a franchise could make your life much easier.
The link below gives you access to our franchise directory so you can see if there's a franchise opportunity for you. You might even find something that points you in a completely different direction.
Related Articles on Starting a Company
These additional resources regarding starting a business may be of interest to you.
Coming Up With Good Business Ideas


Share this article
---
Additional Resources for Entrepreneurs