Starting a Business
Opening an Acupuncture Clinic
This advice is perfect for entrepreneurial folks who plan on opening an acupuncture clinic. Make sure you consider this advice before you start!
Try poking holes in this advice. We dare you! Here are some pragmatic ideas on how to open an acupuncture clinic.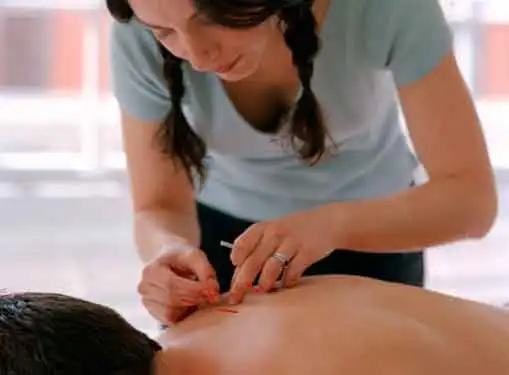 Acupuncture Clinic Startup Prerequisites
Acupuncture has risen from obscurity to take center stage in the growing holistic healing movement. More than 3 million Americans seek acupuncture treatment each year to relieve pain, stress and other ailments. Combined with other holistic treatment options, acupuncture is a stable industry with a positive growth outlook based on the aging American population.
The first step in launching an acupuncture clinic is certification. In the U.S., acupuncture is a regulated industry with the FDA classifying acupuncture needles as Class II medical devices, when used by a certified professional.
In addition to certification, you'll need a general knowledge of the holistic health movement. Many acupuncture clients incorporate acupuncture into a broader treatment regimen. If for nothing else, you'll need to be conversant in holistic health issues just to maintain credibility with your clients.
Best Practices for Acupuncture Entrepreneurs
Acupuncture entrepreneurs are part clinicians and part business people. In order to achieve the right balance between the two, you'll need to adhere to a handful of best practices for startup acupuncturists and clinics.
Focus Your Messaging. Effective small business marketing communicates clear and impactful messaging to a target market. Although there are a lot of messages you could deliver to prospective clients, focus your marketing efforts on the educational and promotional messages that are most important to the people you need to reach.
Consider a Peer Advisory Board. Acupuncture isn't a go-it-alone type of business. Your startup can benefit from the input of your peers. Although they won't have any decision-making authority over your clinic, a peer advisory board can provide a treasure trove of information and valuable advice.
Networking Matters. As an emerging acupuncture clinic owner, it's important to pursue an aggressive business networking program. By participating in acupuncture industry associations, you will make connections with other acupuncture entrepreneurs and nurture your reputation in the industry.
How to Create Effective Acupuncture Clinic Business Plans
In a startup acupuncture clinic, there is no substitute for a high quality business plan. The effort you invest in the creation of your plan now will pay off later in lender responsiveness, investor attention and strategic confidence.
The most effective acupuncture clinic business plans include a comprehensive chapter on finances. The financial chapter of your business plan is one of the first places investors and lenders look, so it needs to contain forecasts and budgets that are rooted in business realities rather than your personal best case scenario.
Subsequently, a thorough understanding of business plan financial basics is a prerequisite to effective business plan writing for acupuncture clinics.
Think Local
Most acupuncture clinics market to local customers. Does localization mean that your business will sell exclusively to customers in the immediate vicinity? Not necessarily. However, it does mean that local customers will be your bread and butter source of revenues. Accordingly, the majority of your startup promotion efforts needs to center on reaching a local audience.
Don't Overlook the Competition
Before you open an acupuncture clinic in your area, it's a smart move to see how many competitors you have. Try our link below to find competitors in your city. Complete the form by entering your city, state and zip code to get a list of acupuncture clinics that are close by.
It's important to be aware of what the competition is doing. Take the time to visit the competition to properly assess their strengths and weaknesses.
A Good Source of Advice
Once you've finished assessing the competion, it's a wise move to speak with somebody who is already in the business. If you think your local competitors will give you advice, you're being overoptimistic. What's in it for them?
However, a fellow entrepreneur who has started an acupuncture clinic on the other side of the country may be willing to share their entrepreneurial wisdom with you, once they realize that you are not going to directly compete with them in their community. Indeed, many experienced entrepreneurs enjoy offering advice to startup entrepreneurs. It can take a while to find an entrepreneur who is willing to talk, but it's well worth the effort.
Where does one find an entrepreneur who is running an acupuncture clinic on the other side of the country to talk to?
No problem! Just use the link below and try a random city/state or zipcode. Then start dialing for advice until you are successful.
Financial Benefits of Buying an Acupuncture Clinic
Worried about the financial aspects of starting an acupuncture clinic? Most startup acupuncture clinic owners are.
Financial risk management requires you to at least consider the possibility of setting your startup plans aside to explore acquisition opportunities. Many entrepreneurs buy an existing business for the sole purpose of tapping into the financial benefits of an established customer base.
Based on the acquisition target's financial records, you should be able to piece together a realistic forecast of your new company's financial picture for the first year and beyond. If you need assistance, we suggest talking to an accountant or professional business planning consultant.
Consider Buying a Franchise
Your odds of avoiding failure in business greatly improve when you choose to franchise and benefit from the prior work of others and their lessons learned.
Prior to starting an acupuncture clinic, it's worthwhile to check out whether franchising might be the right move for you.
The link below gives you access to our franchise directory so you can see if there's a franchise opportunity for you. You might even find something that points you in a completely different direction.
Other Useful Articles for Startup Entrepreneurs
These additional resources regarding starting a business may be of interest to you.
Buying vs. Starting a Business
Share this article
---
Additional Resources for Entrepreneurs