Entrepreneur Business Opportunities
Starting a Late Night Restaurant
This advice is ideal for those who want to open a late night restaurant. Read this article before you start!
Wondering how to start a late night restaurant? We take you step-by-step from start to success.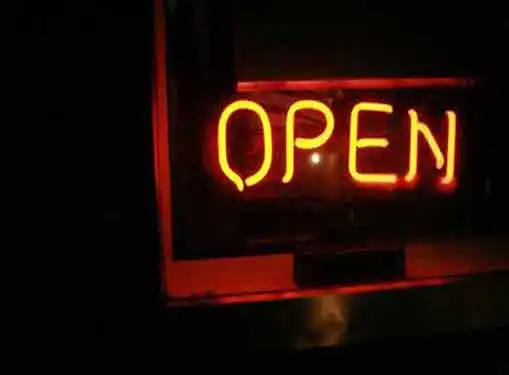 The New Face of Late Night Restaurants
Historically, late night restaurants were greasy spoons that served pizza, diner fare or some other form of inexpensive comfort food. But in many of today's busiest metros, late night restaurants have experienced a transformation -- from cheap and predictable eats to sophisticated and chic cuisine.
Although there are no clear parameters, late night restaurants are often defined as food service establishments that serve customers until at least 1 A.M. The target market for late night food service is primarily the bar crowd. But it's a mistake to limit your business model to raging drunks -- younger professionals regularly seek out quality dining opportunities after taking in a show or enjoying just a few casual drinks.
Variety is a key feature in upscale late night dining. The tendency for 21st century diners to prefer true dining experiences carries over to late night, resulting in an abundance of extended hours opportunities for exotic or niche restaurant concepts.
What It Takes to Succeed in Late Night Food Service
The biggest mistake you can make as a late night restaurateur is to assume that your business thrive simply by keeping the lights on a little later than the competition. Good food and exceptional dining experiences are the staples of successful late night dining, and if your restaurant isn't great you won't experience success -- no matter how late you stay open.
Some of the most successful late night startup leverage social media to quickly build a customer base. Many late night patrons routinely check social media from their mobile devices when they are out on the town. So by offering specials and social media content during late night hours, you can encourage your followers to choose your establishment as a late night impulse dining option.
Late Night Restaurant Startup Issues
Staffing and security are concerns for most late night restaurant startups. Staying open later each night increases your revenue opportunities. But it also increases the amount of staff you will need to operate your establishment. Although it's tempting to put your least experienced staff on the night shift, you'll need veteran waitresses and chefs since the late night crowd expects fast service.
Late night restaurants are inevitably forced to deal with a certain number of inebriated customers, not to mention the increased potential for criminal activity over the late night hours. To combat unruliness and improve safety for your customers, you will need to craft policies and instruct your staff how to deny service to unruly customers.
Best Practices: Business Plans for Late Night Restaurants
A great business plan will lay a strong foundation for growth in your startup late night restaurant.
Business plans address a wide range of issues, including startup financials. Not surprisingly, lenders immediately turn to the financial section and use the accuracy of your forecasts to gauge the value of other parts of the plan.
As a result, we strongly recommend educating yourself in business plan financial basics before finalizing your business plan's financial chapter.
Selecting a Location
Most late night restaurants sell primarily to local customers. As an aspiring entrepreneur, the most important advice we can give you is to avoid investing in an underperforming, unprofitable location. Given the option of paying more money for rent each month or investing that money in marketing, many local businesses find that it's a better investment to put the money into securing a great location.
Take a Look at the Competition
Long before you open a late night restaurant in your town, it's essential to see how strong the competition is. Use the link below to generate a list of competitors nearby. After clicking on the link, type in your city, state and zip code to get a list of late night restaurants near you.
Is the established competition doing a good job? It's important to understand their strengths and weaknesses and think through how you'll stake up against those established businesses.
Learn from Others Who Are Already In This Space
After you've evaluated your local competitors, the next step is to learn as much as you can from somebody who is already in the business. Local competitors are not going to give you the time of day, mind you. The last thing they want to do is help you to be a better competitor.
But, a person who owns a late night restaurant in a different city may be more than happy to give you a few tips, after they realize you reside far away from them and won't be stealing their local customers. In fact, they are often very willing to share startup advice with you. Our estimate is that you may have to contact many business owners to find one who is willing to share his wisdom with you.
How do you locate an entrepreneur who is running a late night restaurant that lives outside of your area?
Simply, try our helpful link below, type in a random city/state or zipcode, and start calling.
Late Night Restaurant Acquisitions: Financial Considerations
You've invested a lot of time and effort in planning your startup. But here's something you probably don't know: Startup late night restaurants consistently fail to achieve the financial performance of acquired late night restaurants.
Financial risk management requires you to at least consider the possibility of setting your startup plans aside to explore acquisition opportunities. Many entrepreneurs buy an existing business for the sole purpose of tapping into the financial benefits of an established customer base.
An acquired business also has documented assets and earnings - a big advantage with lenders and investors.
Consider Franchising
You should know that your odds of doing well in business are higher if you opt for franchising and benefit from the prior work of others and their lessons learned.
As part of your process in starting a late night restaurant, you may want to determine whether buying a franchise could alleviate your startup process.
The link below gives you access to our franchise directory so you can see if there's a franchise opportunity for you. You might even find something that points you in a completely different direction.
More Startup Articles
These additional resources regarding getting started as an entrepreneur may be of interest to you.
Consideration Before Buying a Franchise
Share this article
---
Additional Resources for Entrepreneurs