Start a Business
Starting a Woodworking Business
Looking for real-world wisdom on how to open a woodworking business? If so, print this article, read it three times, and staple it to your office wall.
Thinking about opening a woodworking business? We tell you what you need to know to get started.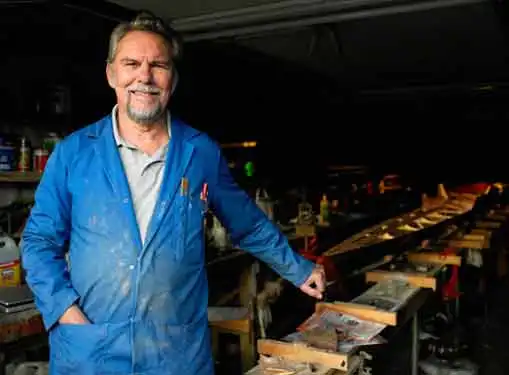 Turning a Hobby Into a Small Business
The woodworking industry is exceptionally diverse, encompassing a wide range of entrepreneurs, skill sets and job sites. While some woodworkers specialize in architectural projects, the majority of woodworking entrepreneurs are hobbyists interested in translating their passion into a full-time career opportunity.
From the outset of your entrepreneurial adventure, you'll need to recognize that a woodworking business startup is anything but a hobby. Plan to work harder and smarter than ever before, sacrificing hours spent with family or on leisure activities to ensure the success of your business.
Along the way, you'll also need to nurture your entrepreneurial skills as well as your level of craftsmanship. Avoiding the common pitfalls of small business ownership is a good start - but to rise to the top of the industry, you'll have to apply liberal doses of creativity, innovation and good business sense.
Marketing Tips for New Woodworking Business Owners
Production usually isn't a problem for most new woodworking entrepreneurs. You already know how to make finely crafted pieces of furniture and other wood products. Instead, the problem is convincing consumers to buy your products for a fair price - and that's where marketing comes into the picture.
Embrace Technology. Woodworkers are more comfortable in the shop than they are behind a computer. Yet profitable woodworking entrepreneurs understand the importance of the Internet and value it like any other tool in their tool chest. A business website, social media marketing, e-newsletters and other strategies can have a big payoff for new woodworking operations.
Portfolios. In the woodworking industry, marketing activities are image-driven. No matter how well you explain your work to prospective customers, nothing can replace images of completed projects. From day one, begin creating a business portfolio that can be reproduced in print form and on your company website.
Craft Fairs. For many woodworkers, craft fairs are the primary outlets for their products. Research craft fair opportunities in your territory, carefully weighing estimated traffic against booth rental costs. To squeeze even more ROI out of your appearances, create a mechanism to capture customers contact information (including email addresses) so they can be added to your newsletter distribution list.
How to Create a Winning Woodworking Company Business Plan
By now, you're probably tired of hearing how important a good business plan is to your woodworking business startup.
Although it might seem like an unnecessary formality, your woodworking company's business plan is a document that will shape your goals and strategies on a go-forward basis.
Here's something else you should know: Business plans help prevent key startup mistakes. Lacking a solid business plan, many startups find themselves rudderless and incapable of executing consistent decision making processes, while committed business planners rely on their plans to guide all of their decision making and short-term planning efforts.
Evaluate Competitors
Long before you open a woodworking business in your town, it's a good idea to see how many competitors you have. Use the link below to find competitors nearby. Simply enter your city, state and zip code to get a list of woodworking businesses in your town.
Prior to opening your doors for business, be sure you fully understand the competitive landscape and where your new business will fit in.
Turning Competitors Into Collaborators
If you are seriously contemplating launching a woodworking business, it's essential that you learn from folks who are already in business. It's very unlikely that the local competition will talk to you. It'd be crazy for them to teach you the business.
Thankfully, an owner of a a woodworking business on the other side of the country can be a great learning resource for you, after they realize you reside far away from them and won't be stealing their local customers. In fact, they are often very willing to share startup advice with you. It can take a while to find an entrepreneur who is willing to talk, but it's well worth the effort.
How do you locate an owner of a woodworking business who is willing to talk to you but doesn't live nearby?
Here's one way to do it. Just use our link below, find somebody and call them.
Acquisitions vs. Startups
There is a lot of debate about whether it's better to start a new woodworking business or acquire a woodworking business on the business-for-sale marketplace.
Both ownership strategies have their benefits and drawbacks. For first-time business owners, it makes more sense to buy an existing woodworking business than to attempt to build one from the ground up.
Established woodworking businesses are already equipped with the resources and processes new business owners struggle to acquire. The key is to locate a business-for-sale that closely matches your ownership philosophy and professional objectives.
Consider Buying a Franchise
Franchising is not a recipe for certain success but does make everything a lot easier.
Prior to starting a woodworking business, you may want to assess whether franchising might make it easy to get started.
The link below gives you access to our franchise directory so you can see if there's a franchise opportunity for you. You might even find something that points you in a completely different direction.
Related Articles on Starting a Company
These additional resources regarding getting started as an entrepreneur may be of interest to you.
Characteristics of Successful Entrepreneurs


Share this article
---
Additional Resources for Entrepreneurs