Business Startup Instructions
How to Start a Gold Panning Business
Opening a gold panning business is an excellent entrepreneurial opportunity but it's important to plan out the business in detail before you start. We provide tips and advice to improve your startup process.
Thinking about opening a gold panning business? We tell you what you need to know to get started.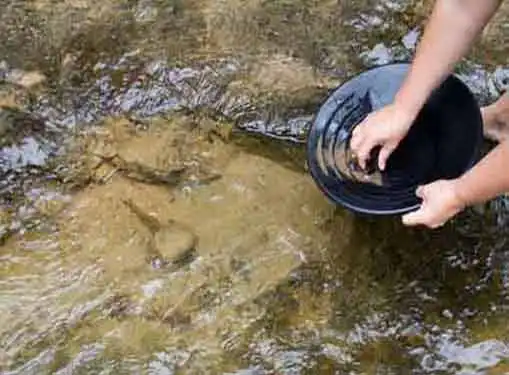 Gold Panning "Prospects"
Gold panning is an old business concept that is currently experiencing a renaissance due to the high price of gold. With gold prices hitting $1,500 per ounce, thousands of gold panning entrepreneurs are heading out into the field to strike their fortunes in what amounts to a modern day gold rush.
The process of panning for gold is based on the fact that gold is 19 times denser than water. By circulating water and gravel in a specialized, 14" pan, skilled prospectors can cull gold flakes and nuggets from the black sand that resides in stream beds.
Before launching a gold panning enterprise, startup entrepreneurs should realize that gold panning is a high risk/high reward industry. While it's possible to make a killing, it's just as likely that you will invest hours of backbreaking work with little return for your efforts.
Scaling Up a Gold Panning Operation
The startup costs for a simple gold panning operation are minimal. Aside from your time, all you'll need are some pans, some basic tools (e.g. shovels, buckets, etc.) and a place to pan.
If your startup is successful, you will ultimately be forced to consider scaling up your operation to a full-blown gold mining business. Although the rewards for gold mining are greater, so are the costs. Here a few things you'll need to consider:
Grow Slowly. A little success can be deadly for growth-minded small business owners. The temptation to scale your operation up too much too fast can impair your judgment, causing you to assume a debt level that can deep six your business. A better approach is to take it slow and gradually scale up your operation to incorporate more sophisticated mining equipment and techniques.
Secure Investors. Once you have proven your ability to pan gold from your location, you can use your success to attract investors to your growth and expansion strategy. Although gold mining is still a risky investment, investors are more likely to fund an established operation than a complete unknown.
Hire Expertise. Unless you have significant personal experience in the gold mining industry, you'll need to hire someone with industry expertise before you embark on a large-scale mining expansion project. The right hire will ensure that your expansion plans are solid and can reduce the costs associated with the growth of your startup.
Tips for Writing a Gold Panning Company Business Plan
Many new gold panning business owners feel unprepared for the challenge of writing a business plan.
The good news is that business plan help may be closer than you think. There are plenty of useful solution designed to assist gold panning business entrepreneurs in business plan writing.
Our Business Plan Help section discusses some of the business plan resources other entrepreneurs have found useful.
Take a Look at Competitors
Prior to opening a gold panning business within your community, it's a smart move to determine how many competitors you have. Try our link below to generate a list of competitors in your city. Just enter your city, state and zip code to get a list of gold panning businesses in your community.
Gain a knowledge of how existing firms have positioned themselves in the marketplace, and then design your business in a way that sets you apart from the others.
Getting Advice from Experienced Entrepreneurs
After you've evaluated your local competitors, it's a wise move to have a conversation with someone who is in the business. It's very unlikely that the local competition will talk to you. Why would they want to educate a future competitor?
However, an entrepreneur who owns a gold panning business in another town may be willing to share their entrepreneurial wisdom with you, given that you don't compete with them in their area. Indeed, many experienced entrepreneurs enjoy offering advice to startup entrepreneurs. Our estimate is that you may have to contact many business owners to find one who is willing to share his wisdom with you.
How does one quickly and easily locate an entrepreneur who is running a gold panning business outside of your area who is willing to talk?
It's easy. Here's a link you can use to find a mentor outside of your area.
Benefits & Drawbacks of a Gold Panning Business Acquisition
An acquisition can be a great way to enter gold panning business ownership. But it's important to evaluate the benefits and drawbacks of buying a business before you decide on either an acquisition or startup approach.
BENEFITS: Acquired gold panning businesses should be profitable right out of the gate; they should also be capable of demonstrating a loyal customer base, brand identity and operational efficiencies.
DRAWBACKS: However, purchased companies can also come with pre-existing challenges and/or liabilities. Ultimately, it may be more difficult to tailor a purchased business to your ownership style.
Franchising May Be a Better Way to Go
Your chances for avoiding failure in business are substantially improved if you go the franchising route rather than going it alone.
Before opening a gold panning business, you ought to determine whether buying a franchise could simplify your entering the business.
The link below gives you access to our franchise directory so you can see if there's a franchise opportunity for you. You might even find something that points you in a completely different direction.
Related Articles on Starting a Company
These additional resources regarding getting started as an entrepreneur may be of interest to you.
Characteristics of Successful Entrepreneurs


Share this article
---
Additional Resources for Entrepreneurs