Franchise Opportunities
Construction Franchises
Looking to build a better future? Construction franchises might be the way to go. These construction franchise opportunities offer a solid foundation for entrepreneurial success!
Construction and building franchises are a popular option for many would-be franchisees.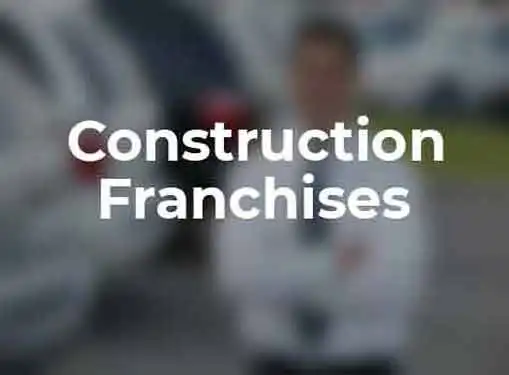 Although construction franchises are appealing for entrepreneurs with construction or building experience, high demand and the potential for high profits also attract small business owners with little or no prior experience.
Due to the highly competitive nature of the construction industry, specialization is an important consideration. You'll achieve more success doing one thing really well rather than trying to do everything with mediocre results. Specialization makes construction and building-related franchises more marketable - and more profitable as well.
A perfect example of this can be found in the cabinet-making franchise industry. Cabinet makers have achieved profitability by capitalizing on the demand for high-quality, custom-installed cabinetry that puts the finishing touch on homes and businesses. By only focusing on cabinets, these franchises have realized the dividends of expertise and in some cases, cost efficiencies.
N-Hance Floor & Cabinet Restoration has further specialized to focus on the restoration of existing cabinetry and hardwood flooring. By restoring both floors and cabinets, they have been able to offer their customers complete makeover services for kitchens and other wood-intensive remodeling projects. The company is currently in the midst of an ongoing process of growth through franchising, offering new opportunities in almost all 50 states.
Points to Consider
Specialization can be a huge benefit for franchisees. However, it also entails risk. If consumer trends move away from your area of specialization, you could find yourself facing the dilemma of trying to sell your product to a shrinking or even nonexistent market. Make sure your franchise specializes in an area that has long-term viability.
Depending on the business, construction and building franchises can require significant space for material storage and assembly. Be prepared to ask your franchisor about space requirements and survey the local real estate market to accurately factor the cost of space in your business plan.
Construction businesses present some unique challenges, one of arises around the issue of code compliance. Building codes vary by municipality, so you'll need to do some upfront work to discern the compliance requirements in your community.
Franchise Opportunities
Want to Learn about Franchise Opportunities?
Browse tons of franchise opportunities in the Gaebler Ventures franchise directory:
Gaebler Ventures Franchise Directory Categories - Alphabetical Listings
Gaebler Ventures Franchise Directory Categories - By Franchise Type
Our Directory of Franchise Opportunities now includes over 1,400 franchise opportunities. If we're missing a franchise, please let us know.
Share this article
---
Additional Resources for Entrepreneurs