Franchise Opportunities
Children's Franchises
There's nothing more rewarding than helping a kid, is there? No wonder that children's franchises are a hot commodity in the franchising world. Kid-related franchises are awesome and we've got the scoop on kid franchises that help kids with everything from learning music to exploring art to simply having fun with friends and getting a little exercise.
Children's franchises are some of the hottest franchising opportunities on the market.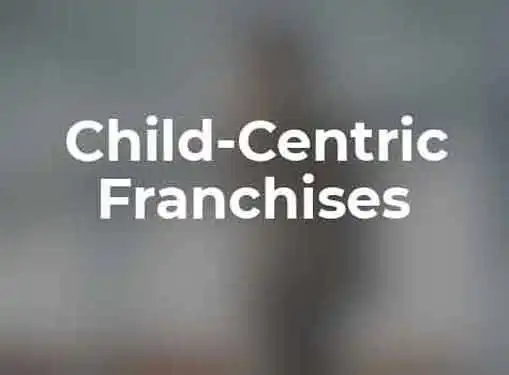 Parents - particularly those in dual-income households - want their kids to have access to a broad range of opportunities, but often lack the time to personally provide the opportunities they would like their kids to experience. The marketplace has responded with small businesses and franchises designed to meet the needs of kids and their parents.
It's important to understand that the children's services industry is not the same as the childcare industry. Although childcare is a part of children's services, the industry is highly diversified. Parents want their kids to experience everything they need to be stimulated and to grow into well-rounded individuals. In addition to childcare, the most popular children's franchises are in the areas of education, fitness, parties, recreation, and art classes.
Huntington Learning Center is a wonderful example of a company that has achieved success in the field of children's services. Founded in 1977, Huntington has been a pioneer in providing supplemental educational services to America's young people. Their success has been based on their philosophy of helping students excel in their studies based on the individual needs of each child. This approach struck a chord with their students and with the marketplace. Huntington continues to be a leader in the industry, offering franchise opportunities to qualified franchisees.
Today, supplemental educational services is a $100 billion + industry, making it one of the fastest growing industries in America. Whether you focus on supplemental education or another specialty, the children's services industry offers countless opportunities for a successful and profitable franchise.
Points to Consider
Due to the diverse nature of children's franchises, the industry offers potential franchisees with a host of options. However, narrowing down your interests can sometimes be difficult. To get a better idea about which specialty is right for you, consider visiting a handful of children's service businesses in your community. This will not only help you decide on a specialty, but also give you a better understanding of the holes in your local market.
Children's businesses present some unique challenges for business owners. While parents are concerned about the services you can provide, they are also very concerned about their kids' safety. This means that your facility must be up to code and in compliance with regulations designed to make it safe for children. To keep kids safe, you'll also need to demonstrate extra diligence in your hiring process.
Franchise Opportunities
Huntington Learning Centers. Huntington is consistently ranked in Entrepreneur's Top 500 franchises. They currently have more than 280 locations in 37 states and offer franchisees an opportunity to earn a profit by investing in the lives of kids.
Gymboree. Gymboree has succeeded in the area of child development by providing opportunities for kids to grow through play, music, art, and fitness. With more than 500 locations in 26 countries, Gymboree is an international force to be reckoned with in children's franchising.
My Gym. My Gym offers fitness activities for kids from 3 months to 9 years old. Their fitness centers are equipped with state of the art equipment and a staff that has been trained to help kids grow - all of which is provided through support services to franchisees.
Want to Learn about Franchise Opportunities?
Browse tons of franchise opportunities in the Gaebler Ventures franchise directory:
Gaebler Ventures Franchise Directory Categories - Alphabetical Listings
Gaebler Ventures Franchise Directory Categories - By Franchise Type
Our Directory of Franchise Opportunities now includes over 1,400 franchise opportunities. If we're missing a franchise, please let us know.
Share this article
---
Additional Resources for Entrepreneurs