How to Franchise a Business
Franchising My Business
Wondering how to franchise a business? An existing company, with one or two company-owned operations, can gain significant benefits by franchising their operation. However, the first step is to evaluate your company as a franchise as objectively as possible. One of the nation's leading franchise consultants, Ed Teixeira, discusses the franchising process.
The franchising landscape is strewn with the remnants of potential franchise operators who thought they had a sure-fire winner, only to be proven wrong.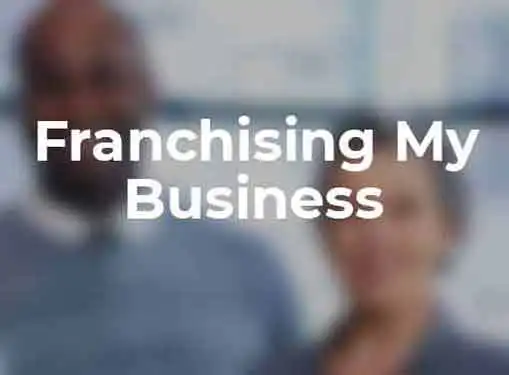 The biggest mistake one can make is to pay for the costs of franchise documents before the preliminary steps are taken.
Countless franchise start-ups make the mistake of having a franchise agreement drawn up at considerable cost before being aware of what it takes to start-up a franchise operation and sell franchises.
Franchise success stories are testament to the power of franchising and virtually every successful franchise organization from "Subway" to "Curves for Women" started from a small operation.
The first step in the process begins with a basic understanding of franchising and the key items to be considered.
Why Businesses Franchise
Franchising can provide:
More rapid growth and brand recognition
Organizational and network stability
Franchisor can operate with fewer staff vs. corporate operations
Increased purchasing power for the entire network
Security of local ownership
More consistent earnings flow
Synergy from owner-operators
Special considerations:
Well-managed corporate locations are more profitable vs. franchise operations.
More difficult to remove a franchisee.
Legal costs of franchising can be high.
Corporate staff will require certain changes to adapt to franchise operations.
Requirements for Franchise Implementation
The Franchise Business - The business that will operate as a franchise must have certain unique attributes that will appeal to prospective franchisees. There must be certain characteristics of your business that are not readily duplicated and will allow for marketing the products or services as well as to market the franchise opportunity. If the business concept of the franchise is lacking, then there will be barriers to success
Ability to Package the System - There must be the capability to duplicate the successful elements of the operation. A key benefit of franchising is the ability of a franchisee to acquire a business with processes or practices which when followed by the franchisee will typically lead to success. Note, I say typically, because there is no guarantee that the franchisees will be successful, however, the risk of failure should be far less with the franchise operation. Regardless of whether the product is food or services, the business which is being converted to a franchise must have the capability of being set into a system.
Successful Financial Model - The financial model must benefit both franchisor and its franchisees. Any franchise program which unfavorably provides one party a significant financial advantage over the other is usually doomed for failure. The best way to assure that this will not happen is to have a pilot or prototype operation which would operate exactly like a franchise. This operation could either be an existing corporately owned location or it could be a new location that is opened up and operated just like a franchise.
Required Capital for Implementation and Growth - A new franchisor will need working capital to meet the legal expenses and staffing requirements to commence a franchise program. No one should go into franchising with the intent that they will simply convert one to two locations to a franchise and not have requirements beyond that point. It's very important that you have a budget of consulting and legal costs, organizational staff such as franchise sales staff and advertising to solicit franchise prospects. You will also need to be prepared for the fact that as you open franchise locations there will be a time lag before they will be generating financial revenue or income to you as the franchisor.
Commitment to Franchising - There must be a true commitment to franchising as the business format for your company. It's important that the proper time and effort be invested in analyzing the advantages and disadvantages when implementing a franchise program. There are significant operational protocols that must be constructed and formalized for the franchisee. If the decision to proceed is positive, then a detailed action plan and appropriate checklists and schedules, to include financial pro-forma, must be devised.
If you believe that you have the requirements to become a franchisor then your next step is to get expert advice!
Ed Teixeira is President of FranchiseKnowHow, LLC, a franchise consulting firm; and a managing principal in the Bridge Business Broker Franchise Company. He may be reached at (631) 246-5782 or at www.franchiseknowhow.com.
Want to Learn about Franchise Opportunities?
Browse tons of franchise opportunities in the Gaebler Ventures franchise directory:
Gaebler Ventures Franchise Directory Categories - Alphabetical Listings
Gaebler Ventures Franchise Directory Categories - By Franchise Type
Our Directory of Franchise Opportunities now includes over 1,400 franchise opportunities. If we're missing a franchise, please let us know.
Share this article
---
Additional Resources for Entrepreneurs