Franchise Opportunities
Retail Franchises
Retail franchises are a great way to get started as an entrepreneur. You can have your very own store! Before buying a retail franchise, be sure to read this article. Plus, take a look at our featured retail franchises.
Not surprisingly, the retail franchise business accounts for a large portion of franchise sales, partly because retail is a very broad category with a diverse mix of industries falling under its umbrella.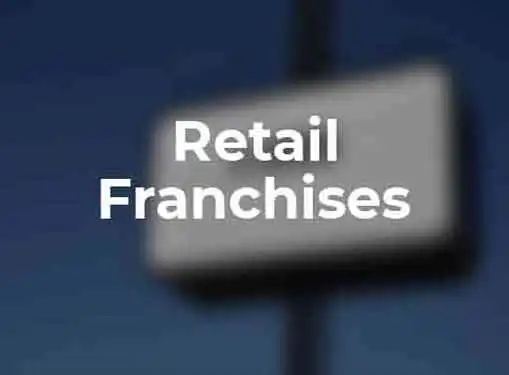 This diversity gives prospective franchisees a lot of choices, making it easier to find a franchise that meets your specific interests and needs.
Around 70% of all franchises are purchased for under $30,000 with retail franchises usually costing more than service franchises due to the overhead costs of merchandise and other retail-specific requirements. Even so, retail franchises are available in a variety of price ranges and business models. Although retail franchises sell in a traditional store venue, there are also retail franchise opportunities that sell their products from kiosks or even from your own home.
The convenience store industry occupies a firmly entrenched position within retail franchising. Founded by the Southland Ice Company in Dallas, Texas in 1927, 7-Eleven has been a pioneer among convenience stores and convenience store franchises. In addition to selling blocks of ice to refrigerate food, an enterprising ice dock employee began offering milk, bread and eggs on Sundays and evenings when grocery stores were closed. This new business idea produced satisfied customers and respectable sales, and marked the birth of convenience retailing. Today 7-Eleven is an undisputed leader in the industry with total sales of more than $36 billion.
Whether you decide to purchase a convenience store or a different retail franchise altogether, it's important to ask the franchisor to provide information about anticipated startup costs and average store profitability as well as questions about the kind of support they are prepared to offer you on a go-forward basis.
Points to Consider
If your resources are extremely limited, purchasing retail space and startup inventory may be difficult. However, there are ways to reduce your startup costs through leasing and other alternatives. Talk to your franchisor about leasing options and other ways you can save money upfront.
Retail requires franchise owners to address the issue of inventory management, something that isn't a factor in most service franchises. Make sure your franchisor has a system in place to help you maintain proper inventory levels and track your merchandise.
Franchise Opportunities
Want to Learn about Franchise Opportunities?
Browse tons of franchise opportunities in the Gaebler Ventures franchise directory:
Gaebler Ventures Franchise Directory Categories - Alphabetical Listings
Gaebler Ventures Franchise Directory Categories - By Franchise Type
Our Directory of Franchise Opportunities now includes over 1,400 franchise opportunities. If we're missing a franchise, please let us know.
Share this article
---
Additional Resources for Entrepreneurs