Franchise Opportunities
Vending Franchises
Interested in vending franchises? The growing popularity of quick-service and self-service suggest that vending franchises will continue to do well for years to come. We discuss things to consider before buying vending franchises, and we highlight a few vending franchises that we think are interesting.
Vending machine franchises offer a unique opportunity for entrepreneurs interested in getting their feet wet in small business.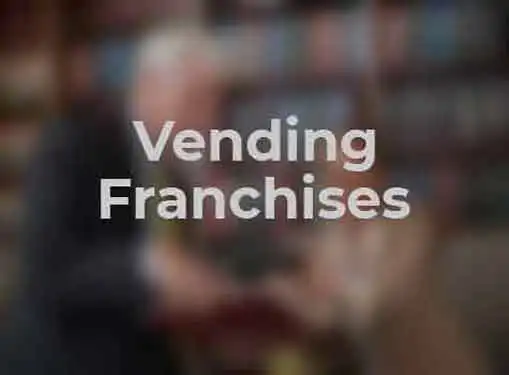 Unlike many other franchise opportunities, vending machine franchises allow you to decide how big or how small your franchise will be. This is especially helpful for entrepreneurs who are looking for a part-time franchise or want to test the franchise waters before they jump in with both feet. However, by employing multiple machines, vending franchises can also provide business owners with a full-scale, full-time operation.
Vending franchises distribute all kinds of products from soft drinks to snack foods. Some vending machines even distribute fishing bait. The key to a successful vending business doesn't have as much to do with the products you distribute as the market in which you are distributing them. Location is critical for success, and to find good locations you'll need to create relationships with businesses and organizations that are capable of hosting your machines.
Forbes magazine identified energy drinks as the largest growth industry in the U.S. today. Leading the way in energy drink manufacturing is Red Bull. Red Bull sells 9 million cans of its product each day in the U.S. By some estimates, its product is now more popular than Coke or Pepsi with the 15-35 age group. The company has been so successful that it now offers vending franchises to qualified franchisees, and in 2006 Red Bull plans to expand its franchise to include international locations.
Like Red Bull, there are a number of franchisors ready to help you get started in the vending franchise industry. Before you choose a franchisor, be sure to assess your local market for gaps that a new vending franchise could fill. You might also want to test the market by contacting local businesses about the possibility of placing vending machines in or near their facility.
Points to Consider
One of the advantages of vending franchises is that they can be started with a very low initial investment. There's also no need for office rent, utilities, employees, or phone expenses. These factors make franchise ownership much easier than in other franchise industries.
Another reason many people are attracted to vending franchise ownership is that it allows them to set their own hours and have more free time than other types of businesses. While this may be true, vending franchises do require discipline on the part of business owners to restock and maintain the machines.
Franchise Opportunities
Protocol LLC. Protocol is a leading international supplier of over-the-counter medications and other personal products...via wall-mounted vending dispensers. In 2005, they reported approximately 50 franchises located exclusively in the U.S.
24seven. 24seven offers business owners a vending franchise that serves a huge range of the most popular snack and beverage drink products. They have 20 franchises in the U.S. and 49 international locations.
Want to Learn about Franchise Opportunities?
Browse tons of franchise opportunities in the Gaebler Ventures franchise directory:
Gaebler Ventures Franchise Directory Categories - Alphabetical Listings
Gaebler Ventures Franchise Directory Categories - By Franchise Type
Our Directory of Franchise Opportunities now includes over 1,400 franchise opportunities. If we're missing a franchise, please let us know.
Share this article
---
Additional Resources for Entrepreneurs