Franchise Opportunities
Franchising Scams
Franchising scams still exist despite laws that attempt to eliminate franchising and business opportunity scams. The primary reason for franchise scams? The victims. Yep, individuals who don't do their homework when buying a franchise often find themselves on the wrong end of a bad franchising deal. Remember, fools and their money are soon parted. Don't be a foolish franchisee!
Every aspiring franchisee dreams of getting in on the ground floor of the next big franchising trend. But hiding amidst the many legitimate franchise opportunities are franchising scams just waiting to take advantage of your franchising dreams.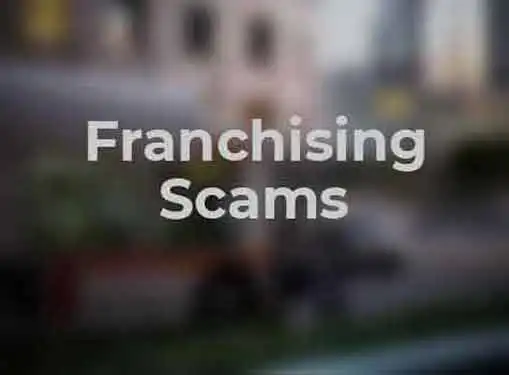 These scams rely on the fact that a lot of new franchise owners don't have the information they need to spot a counterfeit when they see it. Your best defense against franchising scams is to know the signs of illegitimate franchisors before you encounter them.
More than anything else, would-be franchisees need to do their research to spot scams. As you conduct research about franchising opportunities, be on the lookout for red flags that may indicate a dishonest or incompetent franchisor. Here are some of the big ones:
No current franchises
Treat a franchisor that has few or no current franchises with extreme caution. In the past, it has not been unheard of for companies that have never actually opened a single operating unit to aggressively sell franchises to unsuspecting franchisees. Naturally, the few franchisees that were eventually able to open for business failed because the company's franchise business plan was ill-conceived and had never been tested.
Minimally, the franchisor should be able to document the success of several existing franchises. They should also be willing to put you in touch with current franchisees so that you are able to confirm their success firsthand.
Inferior selection process
Something else that should make you cringe is an inferior selection process. Quality franchisors run potential applicants through a fairly comprehensive selection process. This process screens applicants not only for their financial capacity to purchase a franchise, but also for their industry experience and their ability to manage a small business.
If a franchisor doesn't seem to be interested in any qualifications beyond your ability to buy into the franchise, bells and whistles should be going off. It's quite likely that the success of the franchise isn't a real concern for these franchisors. All they're really looking for is a way to make a quick buck - at your expense.
Lack of verifiable financial data
Legitimate franchisors should also be able to produce verifiable financial data for the company as well as data for individual franchises. This information is vital in helping you assess the feasibility of owning a franchise should you decide to do so. You not only need to know the earnings of a typical franchise, but also whether or not the company's financial is sound enough to ensure its long-term survival. If a franchisor is hesitant or unable to produce financial data it's usually because the numbers don't paint a very rosy picture.
Inadequate disclosure documents
Franchisors are required to provide franchisees with disclosure documents specifying the details of franchise ownership within their company. If the disclosure documents are overly vague and the franchisor is unwilling to fill in the blanks with details, run away from the opportunity as fast as you can. Otherwise, you risk becoming tied into a dead-end business with little (if any) legal protection for your interests.
Want to Learn about Franchise Opportunities?
Browse tons of franchise opportunities in the Gaebler Ventures franchise directory:
Gaebler Ventures Franchise Directory Categories - Alphabetical Listings
Gaebler Ventures Franchise Directory Categories - By Franchise Type
Our Directory of Franchise Opportunities now includes over 1,400 franchise opportunities. If we're missing a franchise, please let us know.
Share this article
---
Additional Resources for Entrepreneurs